Japanese Hot Spring Bath Treatments
Advanced Reboot Kit
Regular price

$249.95

Sale price

$176.00
60-Day Money Back Guarantee
Uncover the ancient secrets of Japanese healing with our Onsen Bath Reboot Kit. Dive into a transformative experience that transcends mere skincare, embracing self-discovery and holistic healing. Elevate your routine with the power of centuries-old Onsen Bathing, meticulously crafted to rejuvenate your body and mind.


What's Inside:


Daily Hydration Moisturizer
Infused with peptides and Copper Complex for collagen boost and UVA/UVB protection.

Skin Reboot Cream
Enriched with Japanese botanicals and antioxidants for overnight skin rejuvenation.

White Pagoda Hand Cream
Detoxifies and nourishes skin for a radiant, healthy glow and age spots prevention.

Onsen Secret Hot Spring Mineral Bath
A blend of rare minerals, coral fossil, and cedar wood powder for a therapeutic hot spring experience promoting relaxation, stress relief, detox, and muscle relaxation.
BENEFITS

- Unlock Inner Healing: Immerse in the Onsen Bath to release toxins and stress, empowering your body's self-healing abilities.
- Enhanced Vitality: Witness a rise in core temperature, promoting revitalization and leaving you refreshed.
- Youthful Radiance: Daily Hydration Moisturizer with peptides and Copper Complex combats aging, filters UV radiation, and boosts collagen.
- Overnight Rejuvenation: Skin Reboot Cream enriched with Japanese botanicals reduces redness, promotes collagen, and reveals a healthy morning glow.
- Nourished Hands: White Pagoda Hand Cream detoxifies, nourishes, and enhances skin health with potent vitamins and enzymes.
Key Ingredients

Total Value $239.95
FREE Shipping ($9.95)
Skin Reboot Night Cream ($86.00)
Everything in Skin & Body Reboot +

How to use

Fill a bathtub with enough warm water to cover the entire body and add one sachet of Onsen Secret Hot Spring Mineral bath.

Squeeze the sachet gently to release the minerals and then discard them. For best results, water should be as warm as possible.

Soak for 10-15 minutes. More extended soaking is just for extra fun. You may notice the bath's effect lasts up to 3 hours.

Take precautions to avoid overheating the water and carefully enter/exit the tub. Do not soak light-colored towels in the bath. Clean the tub directly after use to avoid staining.

For first-timers: Make time to explore this authentic experience. It will be great to use it for about 1 hour before you plan to go to sleep. Get ready for a wonderfully restful sleep.
Full Ingredients list
EASY EXCHANGE, RETURN & REFUND

TRY IT FOR 60 DAYS FIRST. If you are not 100% happy, we will issue a full refund less shipping.

SMALL BATCH PRODUCTIONS for fresh and potent product and experience.

SAME DAY SHIPPING on all orders before 2pm PST.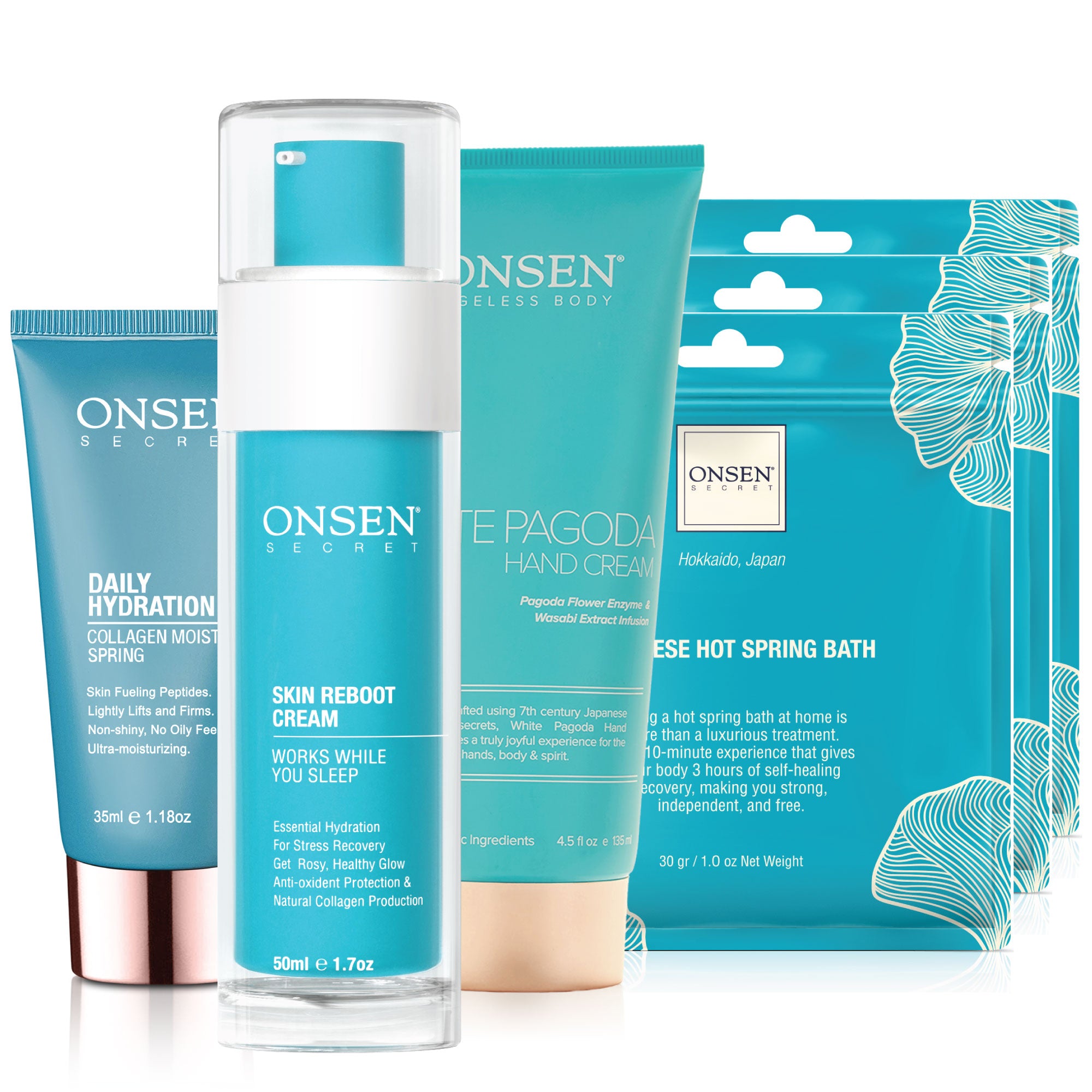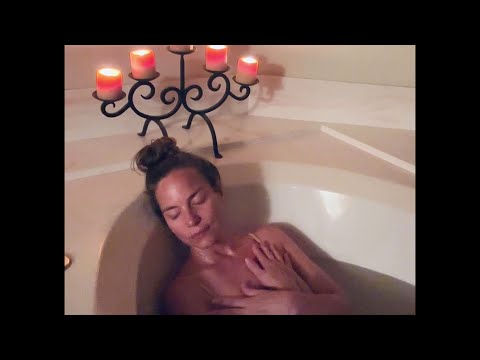 Ingredients - Japanese Hot Spring Bath
Onsen Hot Springs Minerals, Calcium, Tourmaline, Thujopsis Dolabrata Branch Extract
Advanced Reboot Kit Customer Reviews
Running a tech empire demands more than time—it demands self-care. This kit is my secret weapon. The Onsen Bath experience is my Zen moment, a pause in the chaos. And those creams? They're like coding for my skin—overnight, they optimize and reboot, leaving me refreshed for the daily grind. It's not just about looking good; it's about feeling unstoppable, and this kit does exactly that.

Alaina R.

As a former athlete, taking care of my body has always been a priority. I've faced the intensity of the game, but nothing compares to the recovery I've experienced with the Onsen Bath Reboot Kit. The Onsen Secret Hot Spring Mineral Bath is my secret weapon for post-training relaxation. The Daily Hydration Moisturizer and Skin Reboot Cream keep me looking game-ready.

Voltaire T.
What Makes Our Advanced Reboot Kit So Special
A Unique Blend of Rare Hot Spring Minerals

From a medicinal hot spring in Hokkaido, Japan, combined with a 20 million-year-old coral fossil and cedar wood powder, the combination of ingredients provides a therapeutic experience, providing a complete energy restoration on a cellular level

Time-Released Healing Minerals

Activate your body's inner healing and continue to provide therapeutic benefits for up to 3 hours after each soak

Easy to Use & Carry

A convenient, hassle-free way to experience the healing properties of a hot spring while on the go
Your questions, answered.
How often can I use Onsen Secret Hot Spring Mineral Bath?

You can use Onsen Secret Hot Spring Mineral Bath as often as you like, but we recommend using it once a week for a 15-minute soak to achieve the best results.
Can I use Onsen Secret Hot Spring Mineral Bath if I have sensitive skin?

Yes, Onsen Secret Hot Spring Mineral Bath is safe to use for all skin types, including sensitive skin. The minerals in the bath soak are gentle and non-irritating, promoting healthier, more radiant skin.
Are there any precautions I should take when using Onsen Secret Hot Spring Mineral Bath?

Yes, it's important to take precautions to avoid overheating the water and to carefully enter and exit the tub. We also recommend cleaning the tub immediately after use to avoid any residue. Additionally, do not soak light-colored towels in the bath to avoid staining.
Q: Why do you provide premium quality products at an affordable price point? It doesn't feel genuine.

A: Onsen Secret is the brainchild of Doron Santo, a product-development expert for over two decades with extensive personal experience bathing in the Onsens of Japan.

Armed with a deep passion for hot springs healing and proven experience in creating successful products, Doron found a way to create Onsen Secret products in the most efficient, cost-friendly way that also allows for quality ingredients and packaging. That is why we're able to offer our products at the price point we do.

More than maximizing profit, we want to spread the Japanese wisdom of Onsens through our brand. Making them affordable ensures greater accessibility, with our expertise guaranteeing no compromise on quality.
Q: Is there a moneyback guarantee?

A: Absolutely! At Onsen Secret, we want you to experience the amazing results firsthand. That's why we offer an incredible 60-day 100% satisfaction guarantee. We're confident that you'll love our Nail Reboot Challenge Kit, but if, for any reason, you're not completely thrilled with your purchase, don't worry! Simply reach out to our friendly customer support within 60 days of your purchase, and we'll be more than happy to assist you with a hassle-free refund or exchange. Your satisfaction is our top priority, and we want you to feel confident and assured when trying out our product. So go ahead and take the plunge – try it risk-free, and get ready to show off your rejuvenated nails!