Complete Care Solution for Strong, Healthy Nails and Smooth, Hydrated
Ultimate Nail Reboot Kit
Regular price

$92.70

Sale price

$64.95
60-Day Money Back Guarantee
EASY EXCHANGE, RETURN & REFUND

TRY IT FOR 60 DAYS FIRST. If you are not 100% happy, we will issue a full refund less shipping.

SMALL BATCH PRODUCTIONS for fresh and potent product and experience.

SAME DAY SHIPPING on all orders before 2pm PST.
Experience the ultimate solution for damaged and lackluster nails with Onsen's Japanese Nail Reboot Kit. Our natural and safe formula harnesses the power of nature to activate your nails' innate ability to heal, resulting in a smooth, shiny finish that lasts up to 10 days! Perfect for repairing damage after acrylics, smoothing ridges and splits, removing stains, and promoting longer, thicker nails. This mess-free, compact kit is easily carried in a bag or stored in a drawer and comes with replaceable pads for extended life. Say goodbye to harsh chemicals and hello to healthier, stronger nails with Onsen's Japanese Nail Reboot Kit.
BENEFITS

Provides an ultimate shine finish that lasts up to 10 days
Repairs damage caused by acrylic nails
Smooths ridges and splits
Removes stains from nails
Protects and moisturizes nails
Improves blood circulation to nails
Increases nail growth
Promotes longer, thicker nails
Uses natural and safe ingredients without harsh chemicals.
Key Ingredients

Total Value: $92.70 (30% off)
FREE Shipping ($9.95)
Japanese Hand Cream ($36.00)
Everything in Complete +
How to use

Step 1: File
Before using the nail buffer, we recommend using a nail file to shape the tips of your nails. It gives you a more complete look. Best practice for nail file: Start at the outer edge of one nail. Hold the file at a 45-90 degree angle against the nail edge and sweep the file towards the center of the nail. Avoid rubbing the file back and forth to prevent the nail from splitting. Repeat this movement as needed

Step 2: Buff
Use the buffer with clean, dry hands. Hold the block by its sides between your thumb and finger. (Avoid touching the white pads if possible. The oils in your skin can stain them and lessen the life of the pads.) Use slight pressure to slide the surface of the pad along your nail for about 5-10 seconds. Finish each step on all your nails before moving to the next step.

Step 3: Nourish and Repair
Apply a small amount of Nail Reboot Oil. Spread evenly over your nails, cuticle, and the surrounding skin. Massage in a circular motion.
Full Ingredients list
Collapsible row

Use collapsible tabs for more detailed information that will help customers make a purchasing decision.

Ex: Shipping and return policies, size guides, and other common questions.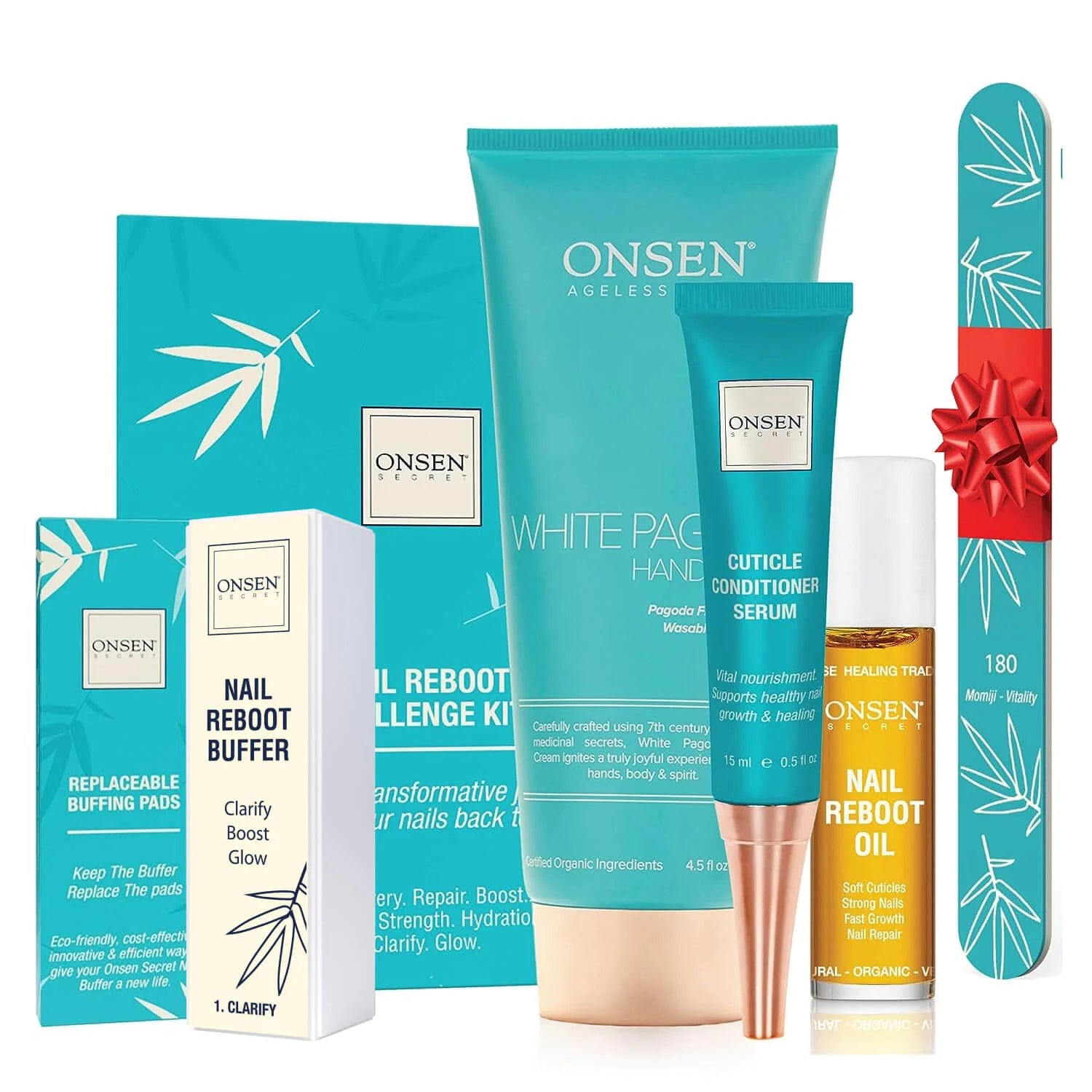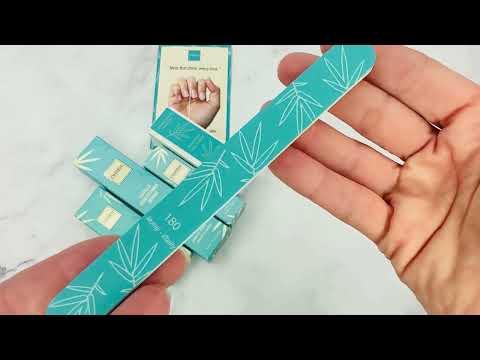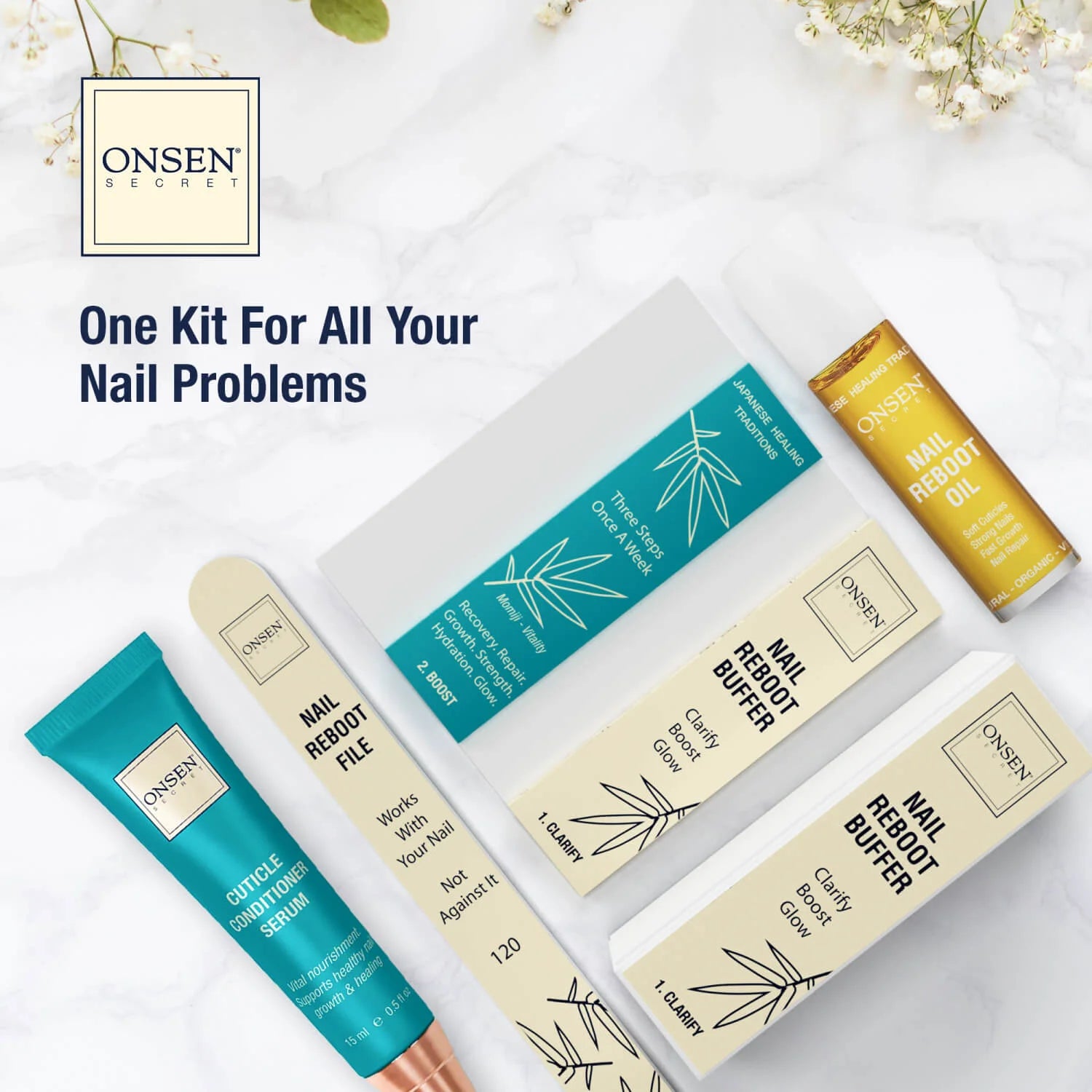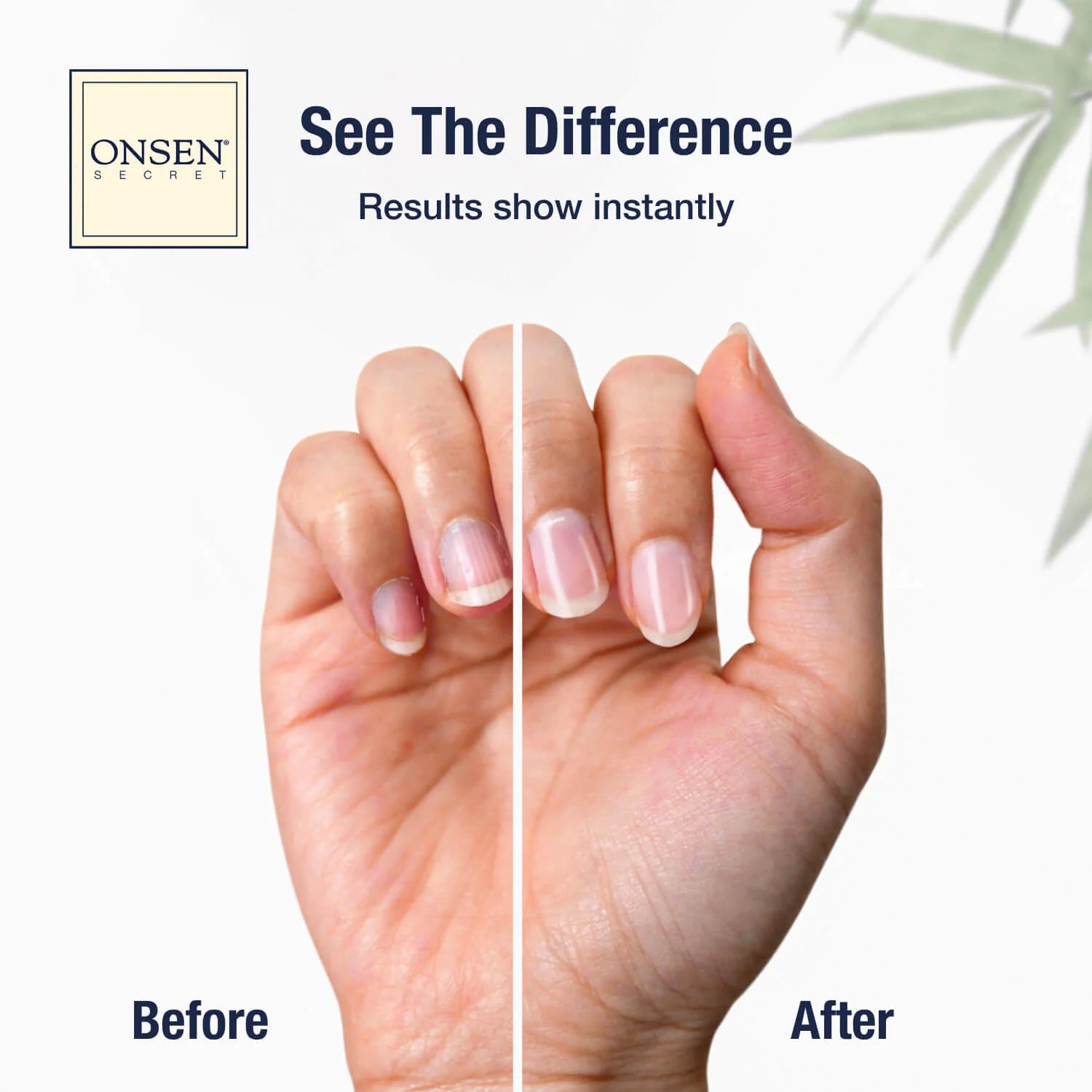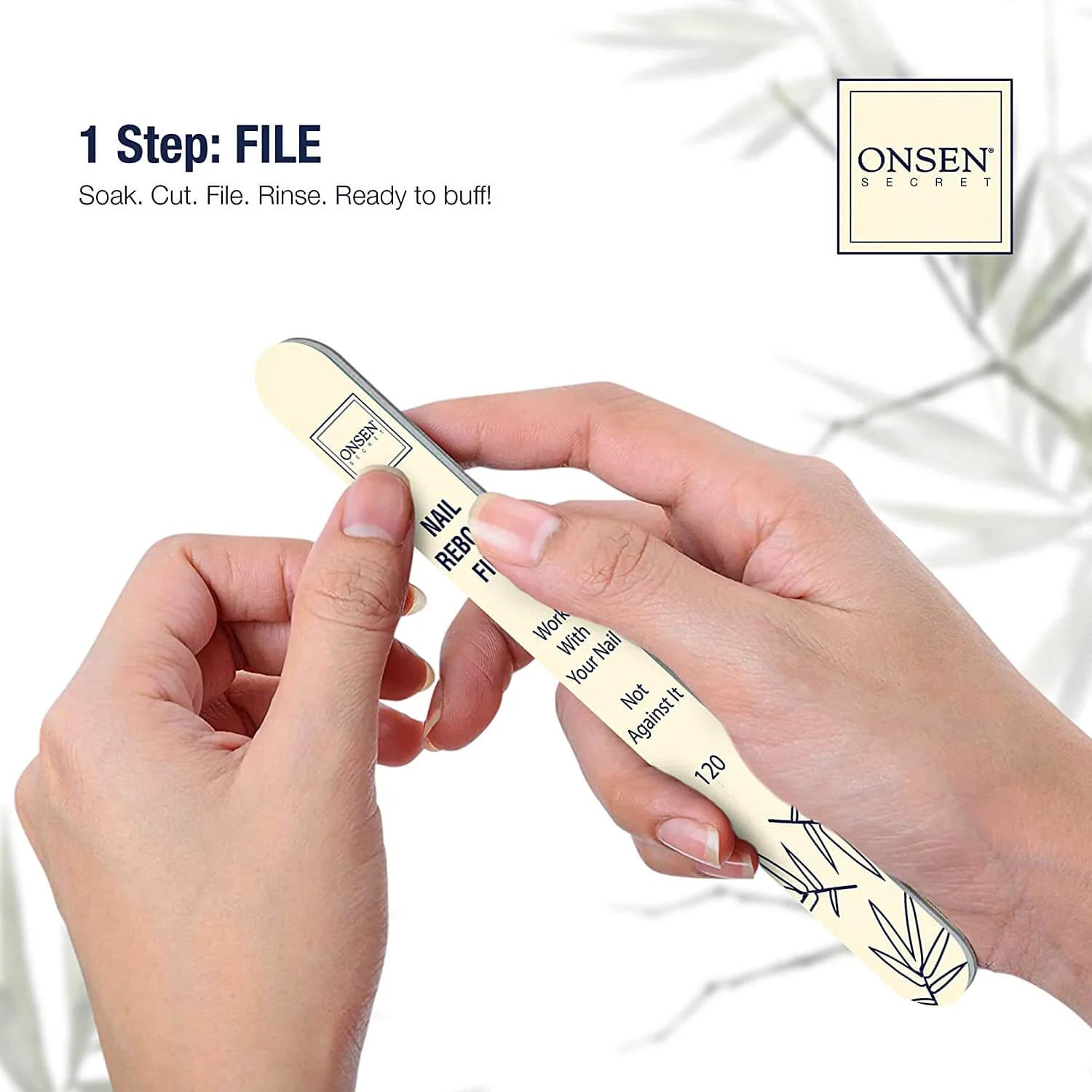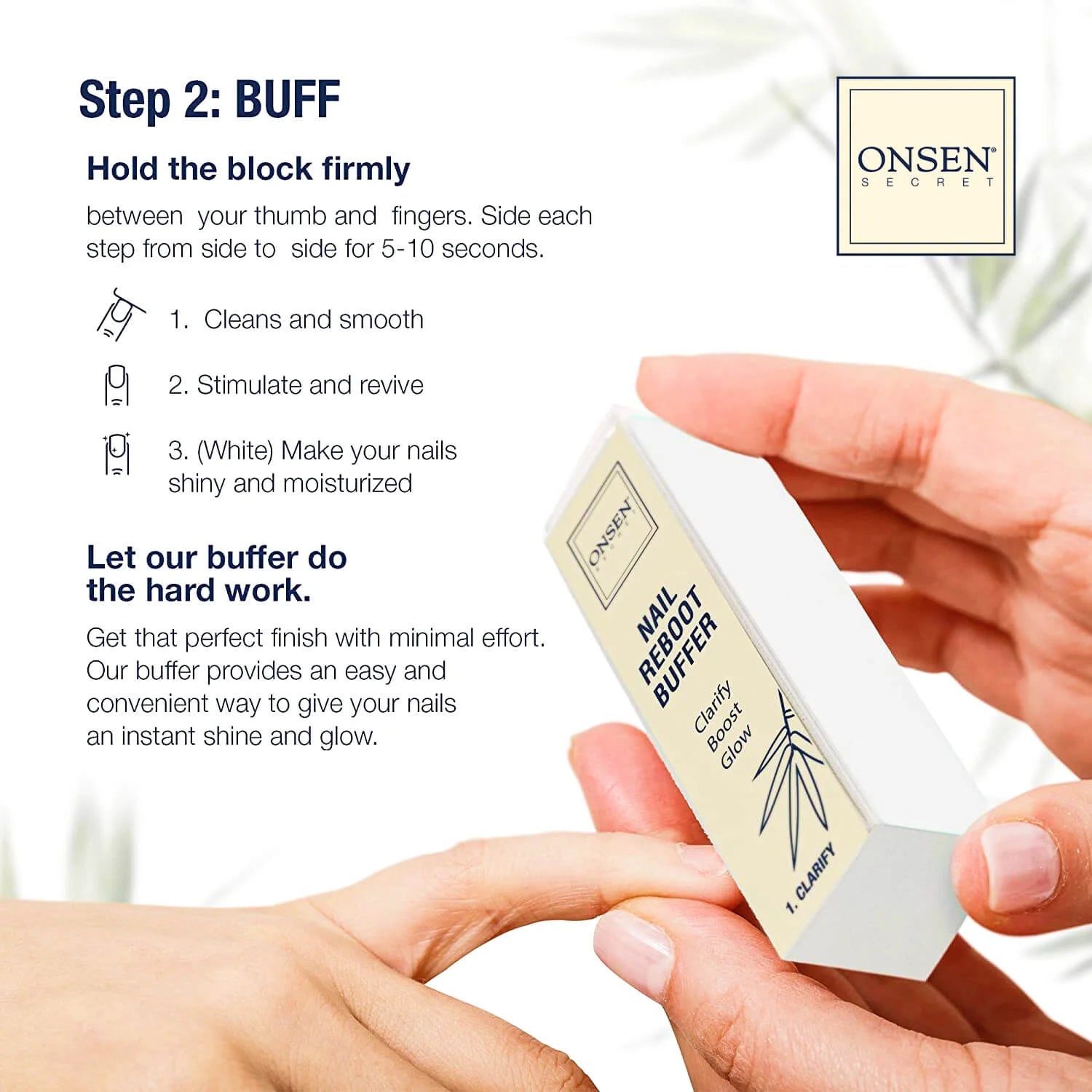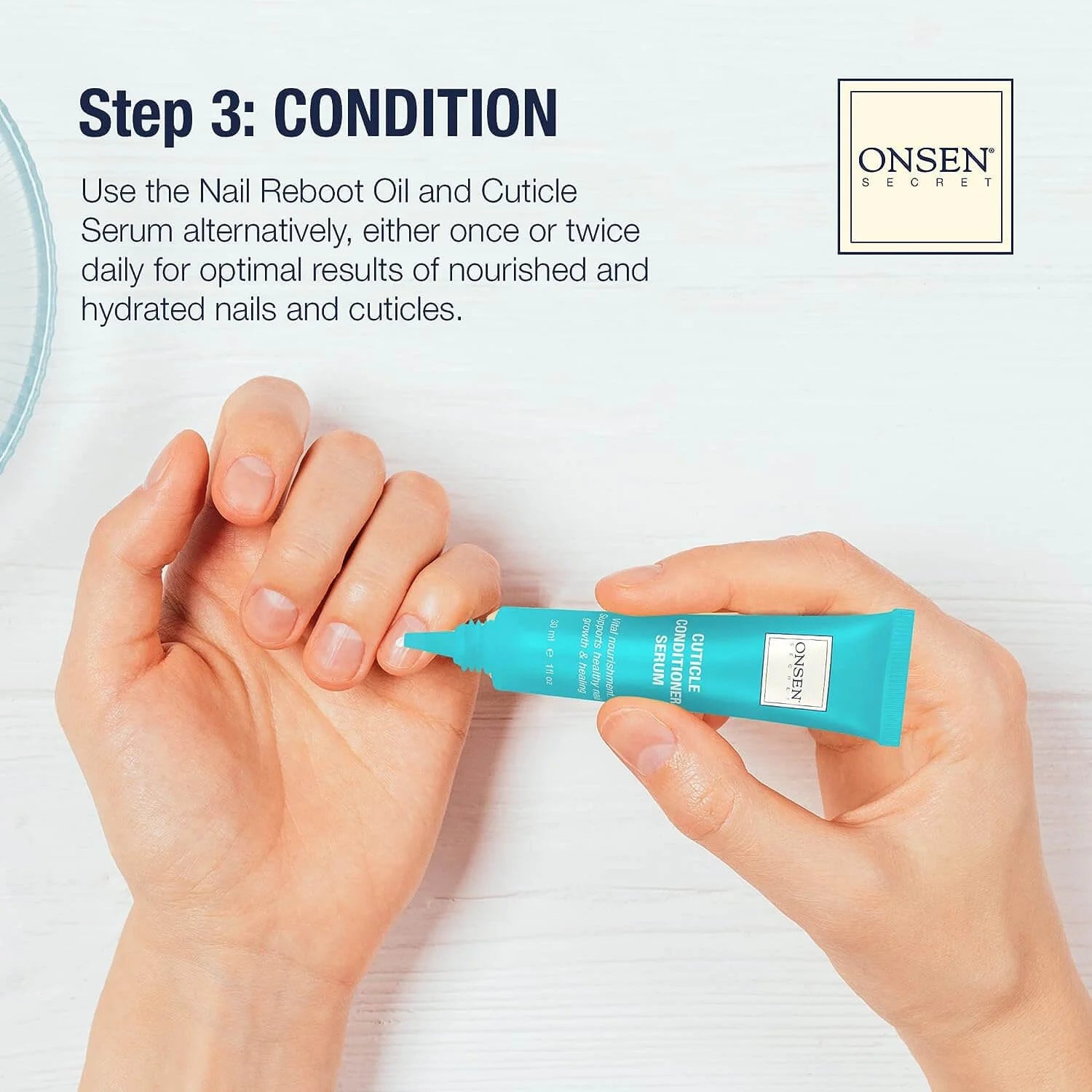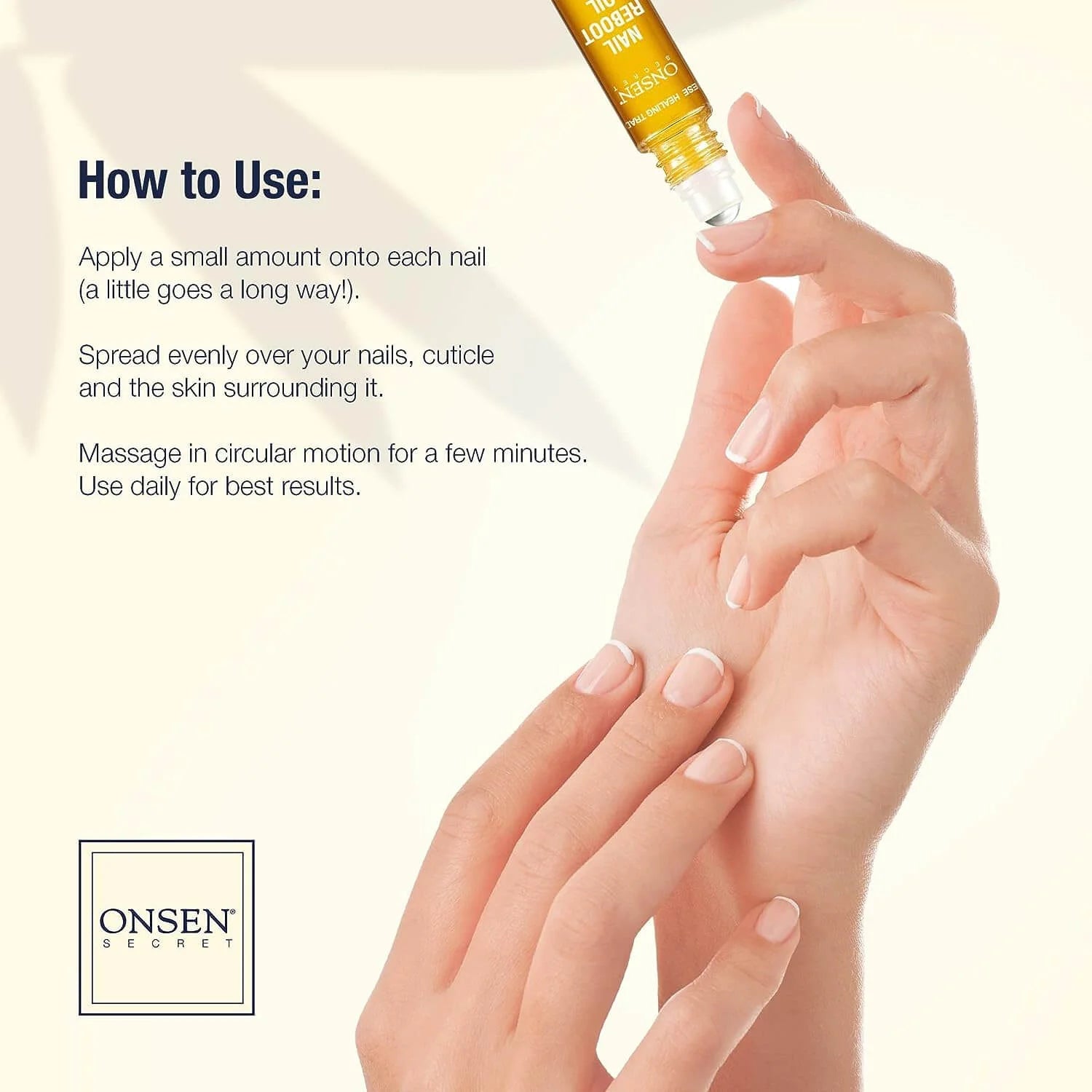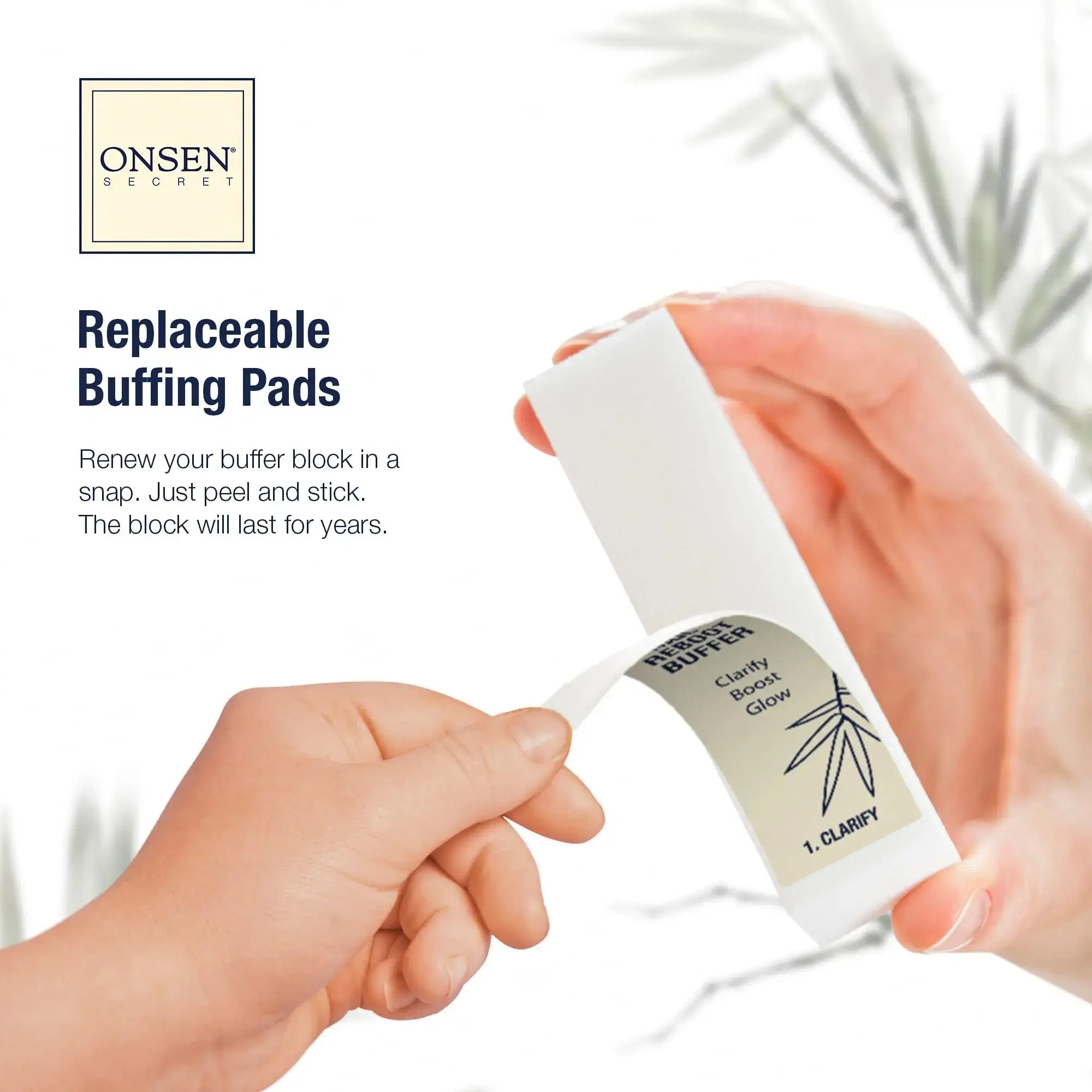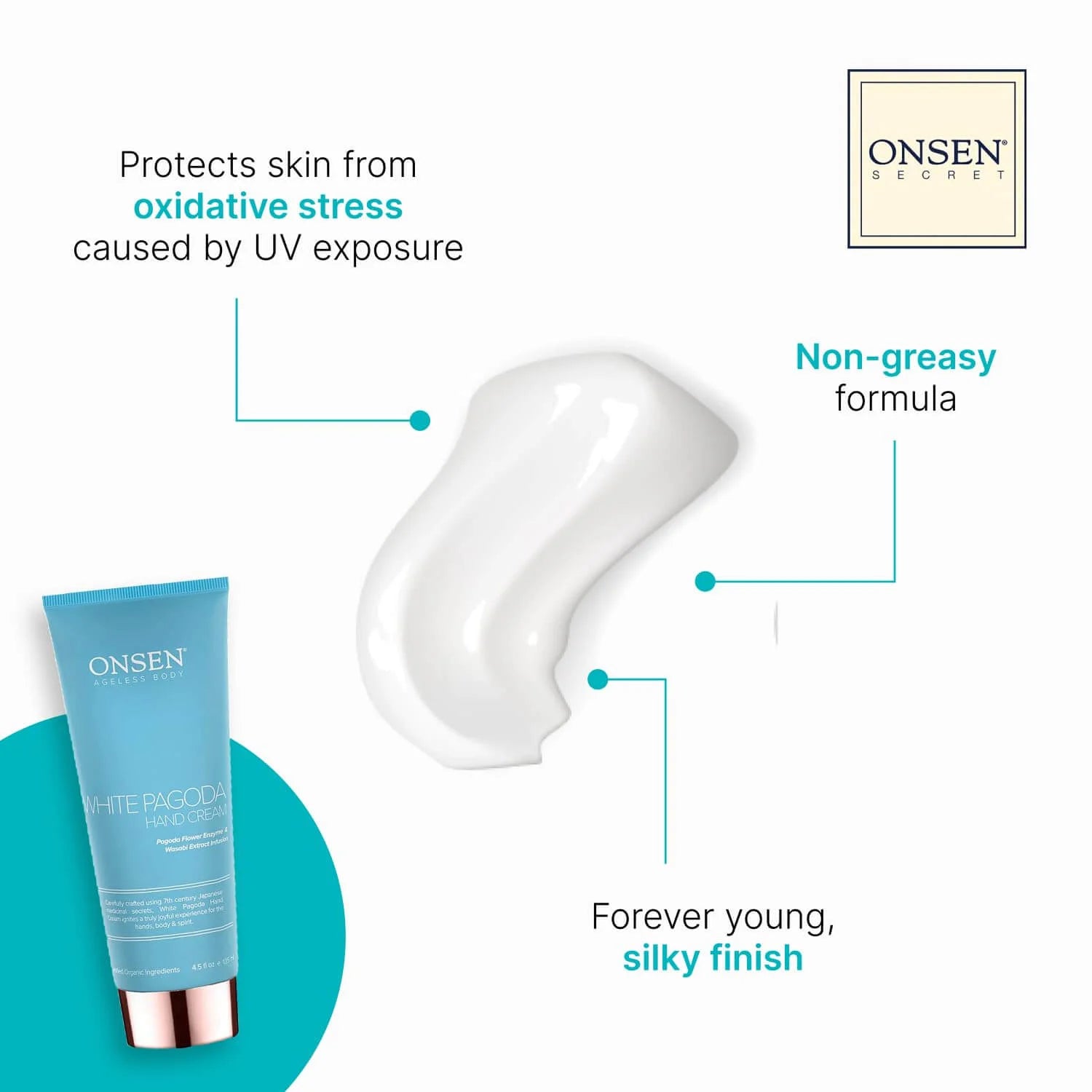 Ultimate Nail Reboot Kit Customer Reviews
My nails and cuticles were severely damaged after removing my acrylics, but this kit repaired them in no time. My nails are now smooth, shiny, and stronger than ever before. I highly recommend this kit to anyone who wants to improve the health and appearance of their nails.

Lisa K.

I'm always on the lookout for natural and safe beauty products, and the Nail Reboot Kit definitely fits the bill. The oil is so nourishing and the buffer is gentle but effective. My nails have never looked better, and I love that I'm not exposing them to harsh chemicals. Definitely a new staple in my nail care routine!

Kelly L.
What Makes Our Ultimate Nail Reboot Kit So Special
It's One Of A Kind

The new standard of what you should expect from your cuticle and nail repair oils and everything in between.

Works For Hours

Velvet texture. Non slippery. Remarkable ability to retain moisture and penetrate the deepest layers of the skin

Protects & Heals

With every application due to its anti-inflammatory, soothing for Soft Cuticles, Strong Nails, Fast Growth, and rapid Nail Repair
Total transformation
I can't even begin to describe how much I love the results I've seen with this kit. My nails are stronger, healthier, and more beautiful than ever. It's like they've gone through a total transformation.
No more complicated nail care routine
Let's be real, nobody wants a complicated nail care routine. That's why I'm obsessed with the Onsen Secret Ultimate Reboot Kit. It's foolproof and foolproof-friendly. Easy peasy.
No harsh chemicals
Onsen Secret is all about using natural ingredients, and it shows. No harsh chemicals or funky stuff that could harm your nails or skin. It's all about pampering yourself with nature's goodness.
Shiny nails
Gets your nails nice and shiny, without having to put polish on. It works really well.
Your questions, answered.
Q: What nail conditions can the Onsen Nail Reboot Challenge kit help with?

A:The Nail Reboot Challenge kit isideal for anyone who wants to achieve healthy, strong nails. Whether you have damaged nails from years of acrylics or gel manicures, or you just want to give your nails some extra TLC, this kit can help. It's perfect for anyone who has weak, brittle, or peeling nails, or who wants to improve their nail health overall. Additionally, if you have tried various nail treatments without success, the Nail Reboot Challenge can be a great option to finally achieve the healthy, beautiful nails you've been dreaming of.
Q: Is the product safe to use and free from harmful chemicals, including during pregnancy and breastfeeding?

A: Absolutely!We prioritize your safety and well-being. Our Nail Reboot Challenge kit is formulated with premium natural, organic, and vegan ingredients, completely free from harmful chemicals.


It is safe to use during pregnancy and breastfeeding, providing you with peace of mind while taking care of your nails and cuticles.
Q: I'm really concerned about how my nails will look after removing acrylics. Will this kit actually help?

A: Absolutely!

Our Nail Reboot Challenge Kit is tailored to help you recover from the effects of acrylic nails. We want you to feel good about your natural nails, so our kit provides a comprehensive solution that effectively restores their beauty.

You'll notice a significant improvement in the appearance and health of your nails after just one use, and even more if you complete the 60-day challenge. Trust us, your nails will look stunning and healthy in no time!
Q: Can the Nail Reboot Challenge Kit help nurses and health practitioners who are not allowed to use nail polish, acrylic, or gel?

A: Absolutely! The Nail Reboot Challenge Kit is specially designed to support the healthcare sector by addressing the challenges faced by nurses and health practitioners.

It helps combat dryness caused by constant hand washing and sanitizers, allowing you to revive and restore the natural beauty of your nails without the need for nail polish, acrylic, or gel.
Q: What's the hype about this cuticle serum? What makes it so special?

A: Our cuticle serum is a true pioneer in the market. Invented back in 2005, it revolutionized cuticle care.

With its deep-penetrating formula, it nourishes your cuticles and activates their self-healing power using the renowned Onsen method. It's a one-stop solution, combining the benefits of oil, cream, and butter.

The best part? It's lightweight, non-sticky, and incredibly long-lasting. Take it with you on the go and keep your cuticles nourished wherever you are.
Q: Why is the Nail Reboot Buffer priced higher than other buffers?

A: Not all buffers are created equal. Our Nail Reboot Buffer is a result of extensive research and development to offer you a nail care experience like no other. We've carefully crafted it to avoid damage and ensure the best filling and buffing effects. Its higher price reflects the use of premium materials and a proprietary application of a delicate "diamond dust" grit, making it truly exceptional. Trust us, the results speak for themselves.
Q: How do I use the Nail Reboot Challenge Kit?

A: We've made using the Nail Reboot Challenge Kit simple and effective. Here's a step-by-step guide to get you started:

Nail Reboot File: Begin by using the Nail Reboot File to shape your nails according to your desired style. Start at the edge of the nail and file in one direction, avoiding sawing motions that can cause damage.
Nail Reboot Buffer: After shaping your nails, gently buff the surface of your nails using the Nail Reboot Buffer. This helps to remove ridges, smooth the nail plate, and enhance product absorption.
Nail Reboot Oil: Apply a small amount of the Nail Reboot Oil to your nails and cuticles. Massage it in using gentle circular motions. The unique blend of oils deeply nourishes and moisturizes the nails and surrounding skin, promoting strength and vitality.
Cuticle Serum: Use the Cuticle Serum to target and rejuvenate your cuticles. Apply a thin layer along the base of each nail and gently massage it in. This helps to soften and hydrate the cuticles, promoting healthy nail growth.
Replaceable Buffing Pads: Over time, the buffing pads may wear out. Replace them with new ones from the Replaceable Buffing Pads Pack to maintain optimal performance and achieve the best results.

Remember to follow the instructions provided in the Nail Reboot Challenge Kit and allow time for the products to work their magic. Consistency is key, so make it a part of your regular nail care routine. You'll soon notice the remarkable transformation of your nails.
Q: Is there a money-back guarantee?

A: Absolutely! At Onsen Secret, we want you to experience the amazing results firsthand. That's why we offer an incredible 60-day 100% satisfaction guarantee. We're confident that you'll love our Nail Reboot Challenge Kit, but if, for any reason, you're not completely thrilled with your purchase, don't worry! Simply reach out to our friendly customer support within 60 days of your purchase, and we'll be more than happy to assist you with a hassle-free refund or exchange. Your satisfaction is our top priority, and we want you to feel confident and assured when trying out our product. So go ahead and take the plunge – try it risk-free, and get ready to show off your rejuvenated nails!