Natural & Organic Hydrating Body Lotion
Organic Fusion Body Lotion | Trial Kit
Regular price

Sale price

$7.00
60-Day Money Back Guarantee
EASY EXCHANGE, RETURN & REFUND

TRY IT FOR 60 DAYS FIRST. If you are not 100% happy, we will issue a full refund less shipping.

SMALL BATCH PRODUCTIONS for fresh and potent product and experience.

SAME DAY SHIPPING on all orders before 2pm PST.
7 Sachets x 2ml each.

Take some for a test drive. Our trial kit includes 7 single sachets, each filled with 2 ml of our available products to give you an ample amount of time and product use so you can see the results yourself.

Transform your skin with our Healing Minerals Body Lotion enriched with our exclusive Onsen Hot Springs Mineral Blend. Our detoxifying and replenishing formula penetrates deep into your skin, infusing it with moisture and relieving dryness, revealing gorgeously soft and smooth skin. Our lightweight and gentle body lotion features the natural healing properties of organic extracts and Japanese botanicals, leaving your skin nourished and hydrated for days.

BENEFITS

Softens and rejuvenates the skin for a luxurious feel
Deep penetrating formula for effective hydration
Made with certified organic ingredients for a natural skincare option
Fragrance-free option available (Organic Fusions) for those with sensitive skin or scent preferences
Safe for sensitive skin, gentle yet effective
Long-lasting moisture for all-day hydration
Increases skin elasticity for a more youthful appearance
Key Ingredients

Onsen Hot Springs Mineral Blend: This is a combination of minerals, including calcium, tourmaline, and thujopsis dolabrata branch extract, that are derived from natural hot springs in Japan. These minerals are believed to provide a range of benefits for the skin, including improving its elasticity, reducing inflammation, and promoting cell regeneration.

Rice Bran Oil: Rice bran oil is a light, non-greasy oil that is rich in antioxidants and vitamin E. It is easily absorbed into the skin, where it helps to nourish and hydrate, leaving the skin soft and smooth.

Shea Butter: Shea butter is a natural fat that is derived from the nuts of the shea tree. It is rich in fatty acids and vitamins, and has been used for centuries to moisturize and protect the skin. Shea butter helps to improve the skin's elasticity and can help to reduce the appearance of fine lines and wrinkles.

Japanese Seaweed (Wakame): Wakame is a type of seaweed that is native to Japan. It is rich in vitamins, minerals, and antioxidants, and is believed to have anti-aging properties. Wakame helps to moisturize and nourish the skin, leaving it looking soft and smooth.

Jojoba Oil: Jojoba oil is a light, non-greasy oil that is easily absorbed into the skin. It is rich in vitamins and minerals, and is believed to help balance the skin's natural oils. Jojoba oil helps to moisturize and nourish the skin, leaving it looking healthy and radiant.

Lavender Essential Oil: Lavender essential oil is known for its soothing and calming properties. It helps to reduce stress and anxiety, and can also help to soothe irritated skin.

Vitamins E, A, and C: These vitamins are powerful antioxidants that help to protect the skin from free radical damage. They also help to nourish and hydrate the skin, leaving it looking healthy and radiant.
How to use

Use any time your skin feels dry or dull. A little goes a long way. Gently massage lotion into the skin. For best results, apply after shower or to slightly damp skin.
Full Ingredients list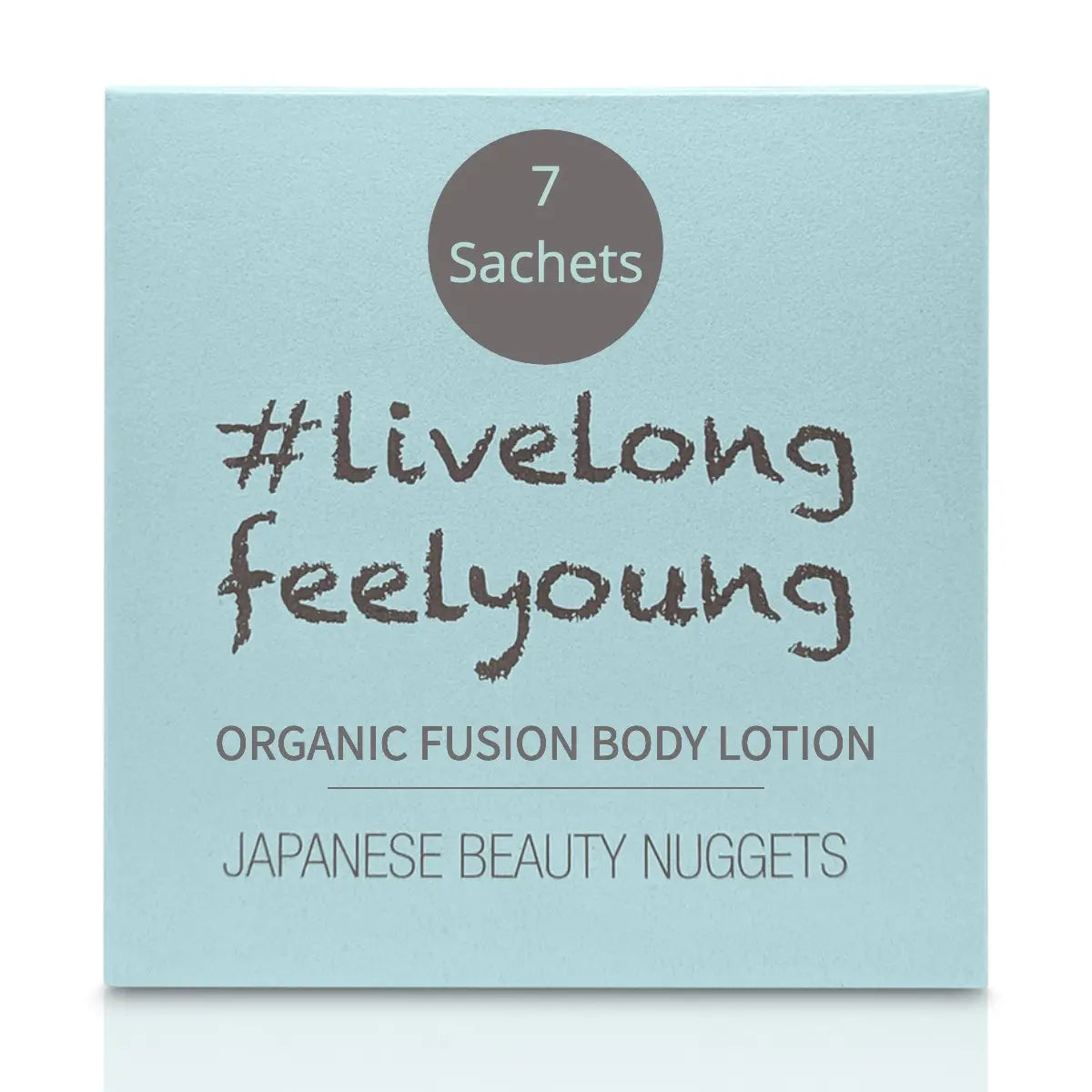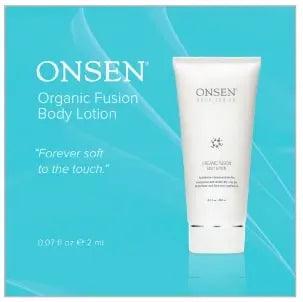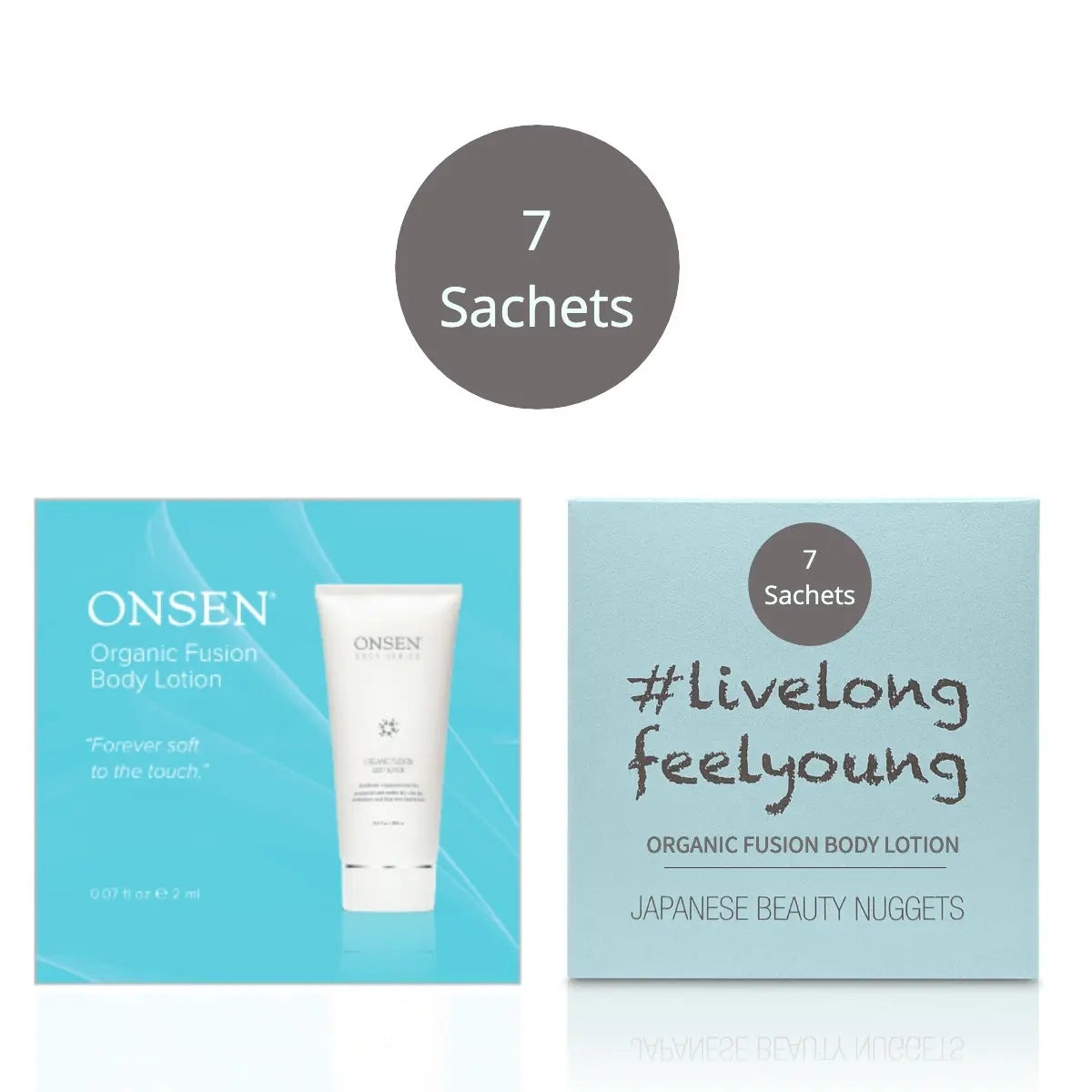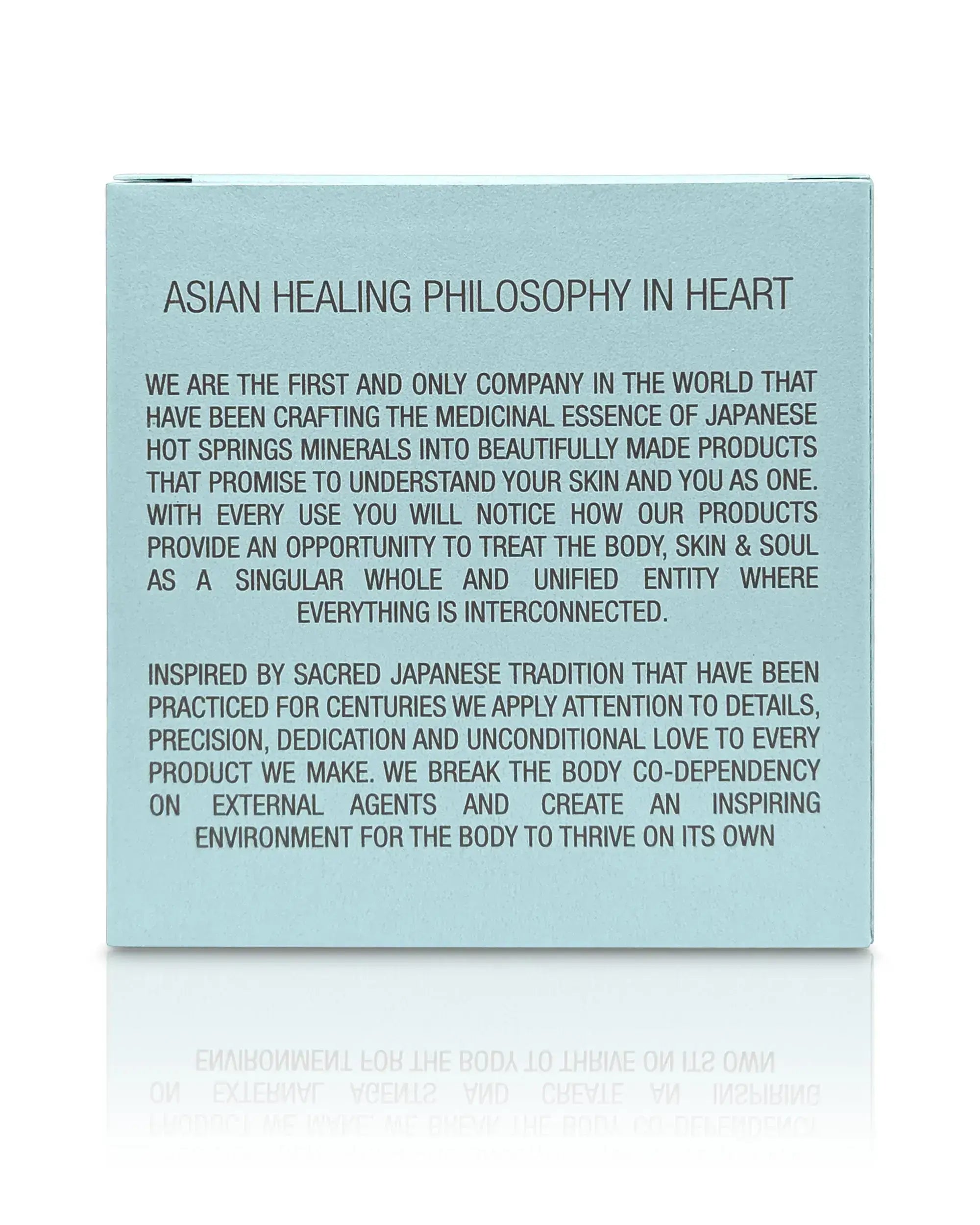 Ingredients - Healing Minerals Body Lotion
Onsen Hot Springs Minerals Distillate™ (Aqua, Calcium, Tourmaline, Thujopsis Dolabrata Branch Extract ), Carthamus Tinctorius (Safflower) Seed Oil, Stearic Acid, Cetyl Alcohol, Glycerin, Cetearyl Alcohol, Ceteareth-20, Sorbitan Stearate, Phenoxyethanol, Tocopheryl Acetate (Vitamin E), Retinyl Palmitate (Vitamin A,, Magnesium Ascorbic Acid (Vitamin C), Simmondsia Chinensis (Jojoba) Seed Oil Butyrospermum Parkii (Shea Butter), Oryza Sativa (Rice) Bran Oil, Undaria Pinnatifida (Japanese seaweed, wakame) Extract, Lycium Barbarum Fruit(Goji Berry) Extract, Sodium Carbomer, Matricaria Recutita Flower (Chamomile) Extract Xanthan Gum, Ethylhexylglycerin, Lavandula Angustifolia (Lavender) Oil.
Organic Fusion Body Lotion | Trial Kit Customer Reviews
I absolutely love this body lotion! It's so lightweight and absorbs quickly into my skin without leaving any greasy residue. It has a subtle, pleasant scent and has made my skin so soft and smooth. I also love that it's made with natural and organic ingredients, which makes it safe for my sensitive skin. I highly recommend this product to anyone looking for a luxurious and effective body lotion!

Laura A.

I've been using the Healing Minerals Body Lotion for a few weeks now, and I can already see and feel a noticeable difference in my skin. It's much more hydrated and has a healthy glow. I love that it's fragrance-free, as I have sensitive skin that reacts to many scented products. The lotion also absorbs quickly, so I can get dressed immediately after applying it. Overall, I'm really impressed with this product and will definitely continue using it.

Ruth O.
What Makes Our Organic Fusion Body Lotion | Trial Kit So Special
Onsen Hot Spring Minerals Blend™

Infused with the most authentic ingredients and minerals that awaken the power of natural healing from within

Natural Ingredients & Japanese Botanicals

Safe and gentle for even the most sensitive skin, while also providing effective and long-lasting moisture

Deep Penetrating Formula

Reaches multiple layers to provide hydration and nourishment and improve the elasticity of the skin
Silky Smooth All Day Long
I'm in love with the Onsen Secret Healing Minerals Body Lotion! It keeps my skin silky smooth throughout the day. The unique blend of minerals and organic extracts works wonders, leaving my skin feeling deeply nourished and hydrated. It's a musthave in my beauty routine.
A Luxurious Treat for My Skin
I absolutely love the Onsen Secret Natural & Organic Hydrating Body Lotion! It has transformed my skin, leaving it incredibly soft and smooth. The healing minerals and organic extracts work wonders in moisturizing and relieving dryness. Highly recommended!
Hydration at Its Best
This body lotion is a gamechanger! The Onsen Secret formula deeply penetrates my skin, providing longlasting hydration. I adore how lightweight it feels, and the Japanese botanicals give it a lovely scent. My skin stays nourished and moisturized for days. A musttry!
Gentle and Effective
Finally, a body lotion that's both gentle and effective! The Onsen Secret Natural & Organic Hydrating Body Lotion is a blessing for sensitive skin. It's lightweight and absorbs quickly, leaving no residue. The hydration it provides is outstanding, and my skin looks radiant. Love it!
Your questions, answered.
Does this body lotion leave a greasy residue?

No, our Healing Minerals Body Lotion is lightweight and absorbs quickly into the skin, leaving no greasy residue behind.
Can this body lotion be used on the face?

While this body lotion is formulated for use on the body, it can also be used on the face if desired. However, we recommend testing a small patch of skin first to ensure no adverse reactions occur.
Is this body lotion safe for sensitive skin?

Yes, our Healing Minerals Body Lotion is safe for sensitive skin. It is made with gentle, natural ingredients that are free from harsh chemicals and fragrances.