Gentle Facial Peeling Gel
Gentle Purifying Facial Peel
Regular price

Sale price

$47.00
60-Day Money Back Guarantee
EASY EXCHANGE, RETURN & REFUND

TRY IT FOR 60 DAYS FIRST. If you are not 100% happy, we will issue a full refund less shipping.

SMALL BATCH PRODUCTIONS for fresh and potent product and experience.

SAME DAY SHIPPING on all orders before 2pm PST.
This self-liquifying facial peel provides deep and thorough exfoliation to gradually lift away dulling dead cells and accelerate skin's cellular turnover to fight uneven pigment, breakouts, mottled texture, and fine lines. Unlike chemical exfoliators, the Purifying Facial Peel doesn't damage the skin in order to help it. Rather, its unique formula will help your skin to gradually renew and regenerate itself naturally, breaking the cycle of dependency on harsh skincare products.
BENEFITS

Gentle, effective and safe
No risk of scarring
Reduces pore size and breakouts
Activates as the natural biological renewal mechanism in the skin
Key Ingredients

Hyaluronic Acid: allows the skin to increase moisture retention, helping to improve skin elasticity as we age

Vitamin C eases and prevents redness and dark circles while energizing the skin

Cinnamon Leaf Oil contains 80 percent phenols, mainly eugenol, which has anesthetic, antiseptic, antimicrobial, and antioxidant properties.

Vitamin E is an Oil-soluble antioxidant and free radical scavenger. Helps protect the epidermis from the early stages of sun damage, reduce moisture loss, and improve rough, dry, or damaged skin.

Organic Japanese Green Tea: delivers tannins to the skin, effectively tightening skin and reducing fine lines and swelling

Organic Aloe Vera leaves are filled with a moisturizing, soothing, mineral, and amino acid-rich gel. Beneficial for sensitive, irritated skin, supplies moisture directly to the tissue for moisture regulation.

Pure Lavender Oil has antiseptic and antifungal properties. Used to treat various skin disorders such as acne, wrinkles, psoriasis, eczema, and other inflammatory conditions.

How to use

Use right after cleansing. With dry hands, apply a thin layer on the dry face and neck. Avoid the eye and lip area. Leave on for 30-45 seconds for activation. Gently massage in circular motions until you feel small particles forming on the skin. Rinse with warm water. First use: 3 consecutive days. Ongoing use: 1-2 times a week.

CARING CAUTION: For external use only. Avoid contact with eyes. If the product gets into the eyes, rinse thoroughly with water. Always consult your healthcare specialist while pregnant or lactating/breastfeeding.
Full Ingredients list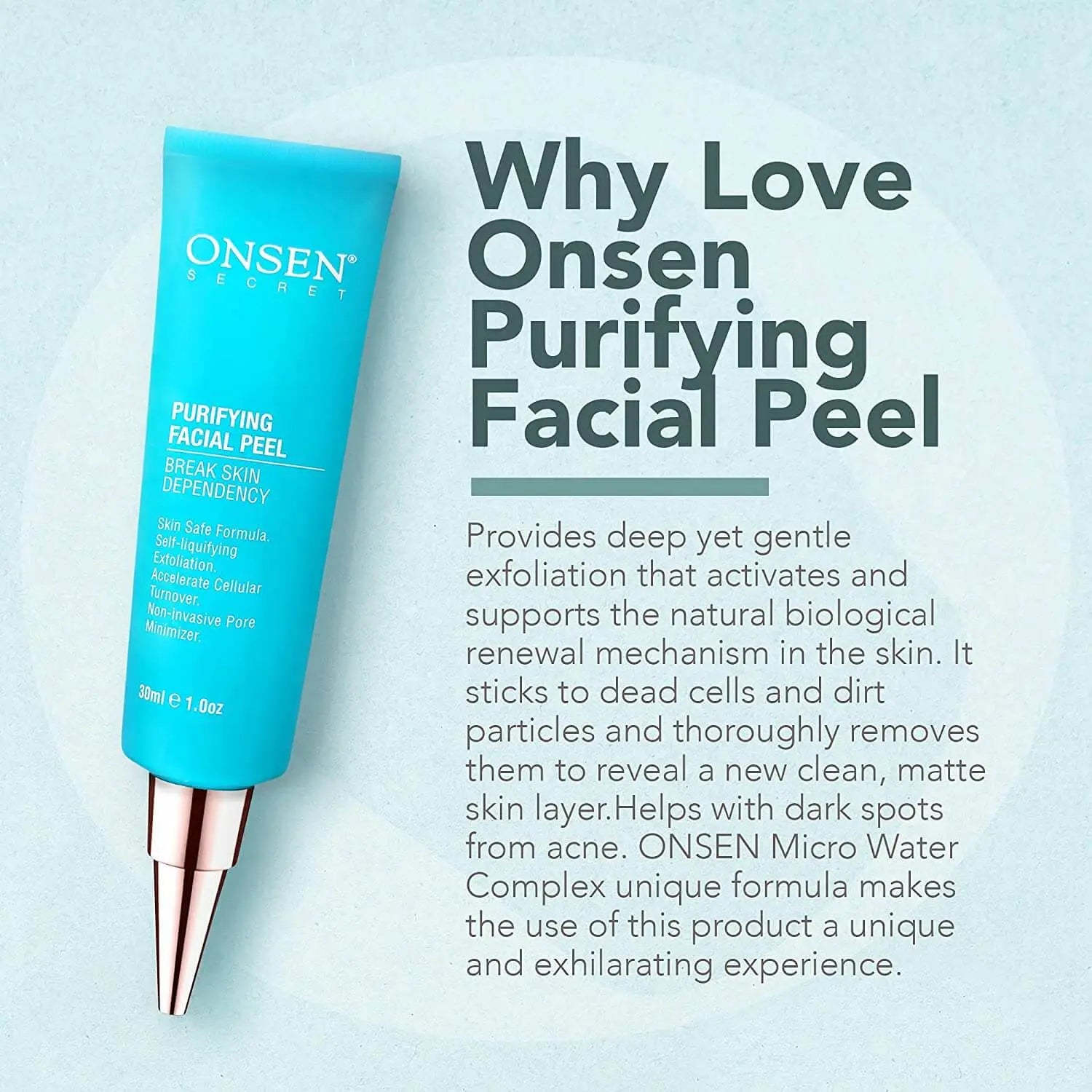 Ingredients - Purifying Facial Peel
Onsen Hot Springs Minerals Distillate TM (Aqua, Calcium, Tourmaline, Thujopsis Dolabrata Branch Extract ), Propylene Glycol, Propanediol, Biosaccharide Gum-1, Sodium Hyaluronate, Palmitoyl Tripeptide-5, Vitis Vinifera (Grapes) Resveratrol Extract, Phenoxyethanol, Aloe Barbadensis Leaf Juice, Camellia Sinensis Leaf Extract, Tocopheryl Acetate, Retinyl Palmitate, Ascorbic Acid, Cinnamomum Zeylanicum (Cinnamon) Leaf Oil, Chamomilla Recutita (Matricaria) Flower Extract, Polysorbate 20, Carbomer, Sodium Hydroxide, Ethylhexylglycerin, Lavandula Angustifolia (Lavender Essence) Oil.
Gentle Purifying Facial Peel Customer Reviews
I have tried all sort of peels. This one is by far the best. At first, I thought it wasn't working, but after letting it dry for a few seconds, I was amazed! You might say I was horrified at the stuff that came off of my face! The dead skin just rolled off. It was kind of gross because I thought my skin was in better shape. Afterwards, I followed up with the Onsen moisturizer. I couldn't believe the difference it made. I went around having people touch my face because it was so smooth.

Betsy W.

I like this product a lot. t incorporates a super fine exfoliant that provides maximum skin protection but still succeeds in taking off that outer layer of dead cells. I use it about 3x/week, followed by a moisturizer containing hyaluronic acid, and it does help my skin look more refined. Just be sure to let it rest on skin at least 15 seconds before working it in so the exfoliant has a chance to activate.

Cassie O.
What Makes Our Gentle Purifying Facial Peel So Special
Gentle and Non-Damaging Exfoliation

The self-liquifying formula allows dead skin cells to be lifted away without the need for harsh scrubbing, which can cause micro-tears in the skin and lead to inflammation

Multi-tasking Ingredients

Contains a range of beneficial ingredients, including hyaluronic acid, vitamin C, and organic Japanese green tea, that work together to brighten, hydrate, and protect the skin

Powerful and Versatile

Suitable for all skin types & helps to renew and regenerate the skin naturally, breaking the cycle of dependency on harsh skincare products
No More Harsh Products
Tired of harsh exfoliators? This peel is a breath of fresh air! It's reassuring to know that I can achieve beautiful skin without causing harm. My skin finally feels free!
A MustHave Secret Weapon
This Gentle Facial Peeling Gel is my secret weapon for flawless skin. It has replaced all my harsh exfoliators, and my skin has never been happier or healthier!
Game Over for Dull Skin
Dull and lifeless skin? Not anymore! This Gentle Facial Peeling Gel has brought back my skin's natural radiance, and I couldn't be happier with the results.
Youthful Skin Rediscovered
I thought I'd lost my youthful skin forever, but this facial peel has proved me wrong. It encourages skin regeneration, making me look and feel younger with every use.
Your questions, answered.
Is the Gentle Exfoliating Peeling Gel suitable for sensitive skin?

Yes, the Gentle Exfoliating Peeling Gel is suitable for all skin types, including sensitive skin. The product is formulated with natural ingredients and is designed to provide gentle exfoliation without causing damage or irritation.
How often should I use the Gentle Exfoliating Peeling Gel?

The frequency of use will depend on your skin type and individual needs. However, it is generally recommended to use the product 1-2 times per week. Overuse of exfoliating products can lead to skin irritation, so it's important to use them in moderation.
How long should I leave the Gentle Exfoliating Peeling Gel on my skin?

The product should be applied to clean, dry skin and left on for 1-2 minutes before rinsing off with warm water. It's important not to leave the product on for too long, as this can lead to skin irritation. If you experience any redness or irritation, rinse the product off immediately and discontinue use.