Natural Skin Exfoliation & Renewal
Purifying Facial Peel
Regular price

Sale price

$59.00
60-Day Money Back Guarantee
Are harsh chemical peels causing more harm than good?
Worried about finding an exfoliator that's gentle enough for sensitive skin?

Look no further.
Our self-liquefying exfoliating gel partners with your skin to trigger natural cell and skin renewal. Unlike acid or chemical peels, it provides gentle and safe exfoliation, even for the most sensitive skin types. With a single application, it cleanses, peels, and moisturizes for a comprehensive skincare experience.
Gentle Yet Effective: Experience safe, non-invasive exfoliation suitable for even the most sensitive skin types.
3-in-1 Convenience: Streamline your skincare routine with a single application that cleanses, peels, and moisturizes simultaneously.
Natural Cell Renewal: Partner with your skin to trigger its natural cell and skin renewal process, revealing a fresh, radiant complexion.
No Harsh Chemicals: Free from acids or aggressive chemicals, ensuring a gentle yet powerful exfoliation experience.
Multi-Benefit Ingredients: A harmonious blend of powerful natural elements for a comprehensive skincare solution that addresses various concerns.
BENEFITS

Non-Invasive Formula: Gentle exfoliation suitable for sensitive skin.
3-in-1 Application: Cleanses, peels, and moisturizes in one step, saving time and effort.
Natural Cell Renewal: Works with your skin to stimulate natural cell and skin renewal.
No Harsh Chemicals: Free from acids or harsh chemicals, ensuring a safe and effective experience.
Multi-Benefit Ingredients: A blend of powerful ingredients for a comprehensive skincare solution.
Key Ingredients

Hyaluronic Acid: Boosts moisture and enhances skin elasticity.
Vitamin C: Reduces redness, dark circles, and energizes the skin.
Cinnamon Leaf Oil: Provides anesthetic, antiseptic, and antioxidant properties.
Vitamin E: Guards against sun damage and improves skin texture.
Organic Japanese Green Tea: Tightens skin, reduces lines, and swelling.
Organic Aloe Vera: Soothes and moisturizes sensitive skin.
Pure Lavender Oil: Offers antiseptic and antifungal benefits.
How to use

Use right after cleansing. With dry hands, apply a thin layer on the dry face and neck. Avoid the eye and lip area. Leave on for 30-45 seconds for activation. Gently massage in circular motions until you feel small particles forming on the skin. Rinse with warm water. First use: 3 consecutive days. Ongoing use: 1-2 times a week.

CARING CAUTION: For external use only. Avoid contact with eyes. If the product gets into the eyes, rinse thoroughly with water. Always consult your healthcare specialist while pregnant or lactating/breastfeeding.
Full Ingredients list
EASY EXCHANGE, RETURN & REFUND

TRY IT FOR 60 DAYS FIRST. If you are not 100% happy, we will issue a full refund less shipping.

SMALL BATCH PRODUCTIONS for fresh and potent product and experience.

SAME DAY SHIPPING on all orders before 2pm PST.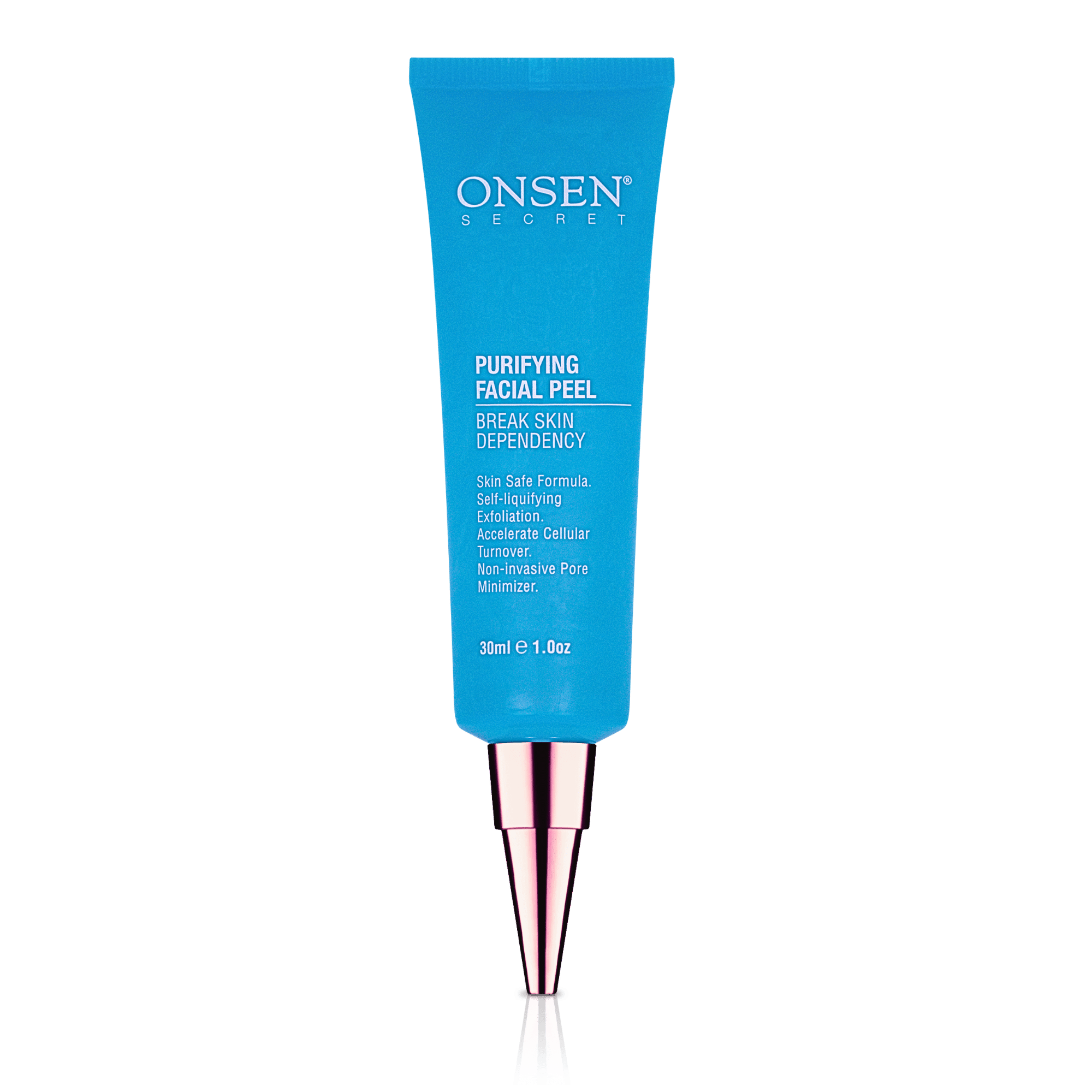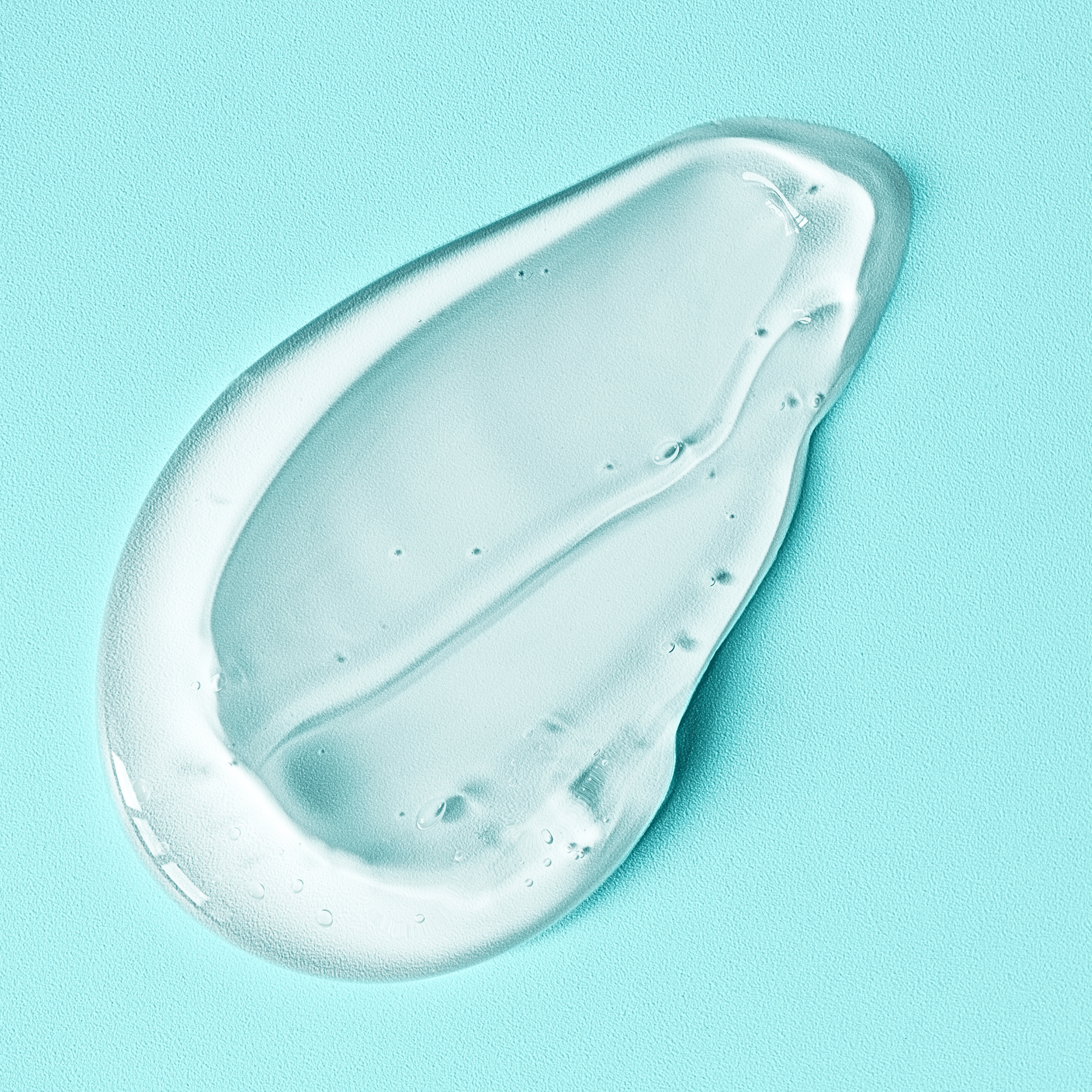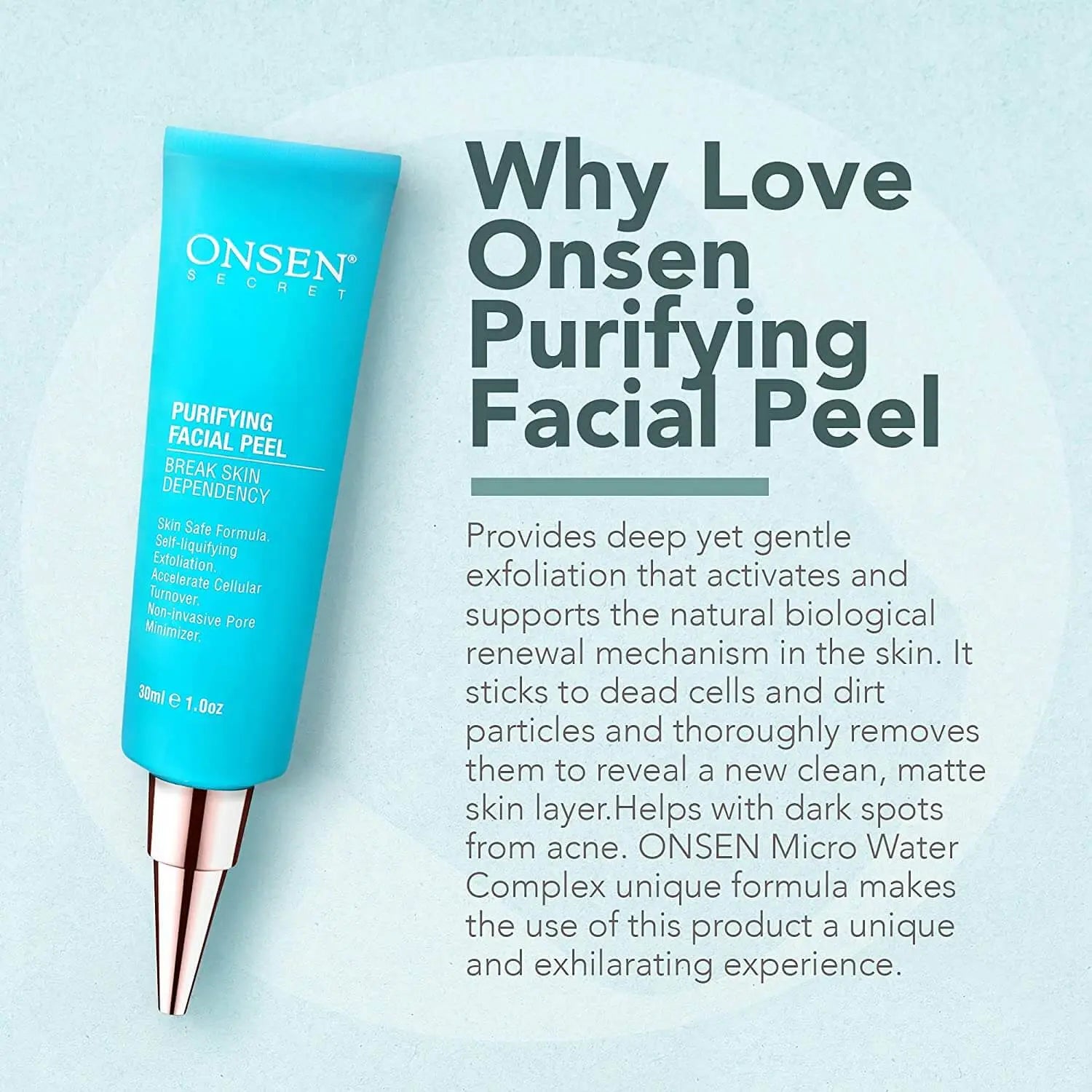 Ingredients - Purifying Facial Peel
Onsen Hot Springs Minerals Distillate TM (Aqua, Calcium, Tourmaline, Thujopsis Dolabrata Branch Extract ), Propylene Glycol, Propanediol, Biosaccharide Gum-1, Sodium Hyaluronate, Palmitoyl Tripeptide-5, Vitis Vinifera (Grapes) Resveratrol Extract, Phenoxyethanol, Aloe Barbadensis Leaf Juice, Camellia Sinensis Leaf Extract, Tocopheryl Acetate, Retinyl Palmitate, Ascorbic Acid, Cinnamomum Zeylanicum (Cinnamon) Leaf Oil, Chamomilla Recutita (Matricaria) Flower Extract, Polysorbate 20, Carbomer, Sodium Hydroxide, Ethylhexylglycerin, Lavandula Angustifolia (Lavender Essence) Oil.
Purifying Facial Peel Customer Reviews
I have tried all sort of peels. This one is by far the best. At first, I thought it wasn't working, but after letting it dry for a few seconds, I was amazed! You might say I was horrified at the stuff that came off of my face! The dead skin just rolled off. It was kind of gross because I thought my skin was in better shape. Afterwards, I followed up with the Onsen moisturizer. I couldn't believe the difference it made. I went around having people touch my face because it was so smooth.

Betsy W.

I like this product a lot. t incorporates a super fine exfoliant that provides maximum skin protection but still succeeds in taking off that outer layer of dead cells. I use it about 3x/week, followed by a moisturizer containing hyaluronic acid, and it does help my skin look more refined. Just be sure to let it rest on skin at least 15 seconds before working it in so the exfoliant has a chance to activate.

Cassie O.
What Makes Our Purifying Facial Peel So Special
Gentle and Non-Damaging Exfoliation

The self-liquifying formula allows dead skin cells to be lifted away without the need for harsh scrubbing, which can cause micro-tears in the skin and lead to inflammation

Multi-tasking Ingredients

Contains a range of beneficial ingredients, including hyaluronic acid, vitamin C, and organic Japanese green tea, that work together to brighten, hydrate, and protect the skin

Powerful and Versatile

Suitable for all skin types & helps to renew and regenerate the skin naturally, breaking the cycle of dependency on harsh skincare products
No More Harsh Products
Tired of harsh exfoliators? This peel is a breath of fresh air! It's reassuring to know that I can achieve beautiful skin without causing harm. My skin finally feels free!
A MustHave Secret Weapon
This Gentle Facial Peeling Gel is my secret weapon for flawless skin. It has replaced all my harsh exfoliators, and my skin has never been happier or healthier!
Game Over for Dull Skin
Dull and lifeless skin? Not anymore! This Gentle Facial Peeling Gel has brought back my skin's natural radiance, and I couldn't be happier with the results.
Your questions, answered.
Is the Gentle Exfoliating Peeling Gel suitable for sensitive skin?

Yes, the Gentle Exfoliating Peeling Gel is suitable for all skin types, including sensitive skin. The product is formulated with natural ingredients and is designed to provide gentle exfoliation without causing damage or irritation.
How often should I use the Gentle Exfoliating Peeling Gel?

The frequency of use will depend on your skin type and individual needs. However, it is generally recommended to use the product 1-2 times per week. Overuse of exfoliating products can lead to skin irritation, so it's important to use them in moderation.
How long should I leave the Gentle Exfoliating Peeling Gel on my skin?

The product should be applied to clean, dry skin and left on for 1-2 minutes before rinsing off with warm water. It's important not to leave the product on for too long, as this can lead to skin irritation. If you experience any redness or irritation, rinse the product off immediately and discontinue use.
Q: Why do you provide premium quality products at an affordable price point? It doesn't feel genuine.

A: Onsen Secret is the brainchild of Doron Santo, a product-development expert for over two decades with extensive personal experience bathing in the Onsens of Japan.

Armed with a deep passion for hot springs healing and proven experience in creating successful products, Doron found a way to create Onsen Secret products in the most efficient, cost-friendly way that also allows for quality ingredients and packaging. That is why we're able to offer our products at the price point we do.

More than maximizing profit, we want to spread the Japanese wisdom of Onsens through our brand. Making them affordable ensures greater accessibility, with our expertise guaranteeing no compromise on quality.
Q: Is there a moneyback guarantee?

A: Absolutely! At Onsen Secret, we want you to experience the amazing results firsthand. That's why we offer an incredible 60-day 100% satisfaction guarantee. We're confident that you'll love our Nail Reboot Challenge Kit, but if, for any reason, you're not completely thrilled with your purchase, don't worry! Simply reach out to our friendly customer support within 60 days of your purchase, and we'll be more than happy to assist you with a hassle-free refund or exchange. Your satisfaction is our top priority, and we want you to feel confident and assured when trying out our product. So go ahead and take the plunge – try it risk-free, and get ready to show off your rejuvenated nails!