Nourishing, Anti-Fungal Nail Repair Oil
Cuticle and Nail Reboot Oil
Regular price

$0.00

Sale price

$16.95
60-Day Money Back Guarantee
EASY EXCHANGE, RETURN & REFUND

TRY IT FOR 60 DAYS FIRST. If you are not 100% happy, we will issue a full refund less shipping.

SMALL BATCH PRODUCTIONS for fresh and potent product and experience.

SAME DAY SHIPPING on all orders before 2pm PST.
Onsen Secret Nail Reboot Oil is designed to strengthen and beautify nails that often peel, break or split. With its velvet-rich texture that isn't too slippery or oily to touch, you'll feel the Nail reboot working on your nails & cuticles for hours to come! Expect strong growth and hydration from this incredibly transformative product.

Made from pure, organic, vegan, unrefined, cold-pressed, virgin oils without the use of toxic, harmful, or aggressive ingredients.

Skin type: Suitable for all skin types, especially sensitive skin.

Size: 30ml, 10ml

Soft Cuticles | Strong Nails | Fast Growth | Nail Repair
BENEFITS

Strong Nails
Soft Cuticles
Fast Growth
Nail Repair
Fungus Defense
Wound Healing
Good For Toe Nails
Key Ingredients

Tsubaki Oil Camellia (Tsubaki) Japonica Seed Oil
Camellia Seed Carrier Oil is a luxurious cosmetic oil derived from the seeds of Camellia fruits. A traditional oil used for centuries in China and Japan is widely thought to be the cherished secret behind the youthful, immaculate beauty of women from East Asia. It is sometimes called the world's 'Eastern Olive Oil' or 'Oriental Olive Oil'.

Tea Tree Oil Melaleuca Alternifolia (Tea Tree) Leaf Oil 
Tea Tree Oil contains natural antiseptic, antibacterial and antioxidant properties. It effectively treats nail problems such as fungal infections and other related conditions. It also has an anti-inflammatory effect, aiding in treating dry or peeling nails. It helps to prevent future nail problems by strengthening the nails and preventing them from becoming brittle.

Rosehip Oil Rosa (Rosehip) Canina Fruit Oil
Rosehip Oil contains essential fatty acids, vitamins A, C, and E, and other antioxidants that heal and nourish dry and cracked nails and cuticles. It is a vital ingredient to stronger and healthier-looking nails because of its anti-aging, moisturizing, and brightening properties.

Golden Jojoba Oil Simmondsia Chinensis (Jojoba) Seed Oil
Jojoba Oil is a light, penetrating oil that gently opens the skin's pores to deliver other ingredients' moisturizing and healing benefits. It helps condition and soften the nails and cuticles.

Castor Oil Ricinus Communis (Castor) Seed Oil
The rich, thick texture and generous dose of vitamin E in Castor Oil make it a great option for strengthening thin and fragile nails. It aids in moisturizing not only the cuticle area but also the nail bed itself.

Rice Bran Oil Oryza Sativa (Rice) Bran Oil
Rice bran oil is a light golden oil pressed from the brand or the husk of rice kernels. It contains several unique phytochemicals that are rich in fatty acids. It is anti-inflammatory, soothing, cleansing, and deeply nutritive.
How to use

Apply to your nails, cuticle, and rub onto your hands and the rest of your skin.

Increase your nail strength and clarify with every application.

Highly recommended to use our Japanese nail buffer as well as Onsen cuticle conditioner serum to maximum results.
Full Ingredients list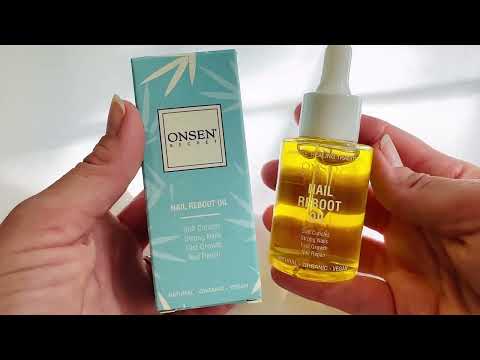 Ingredients - Nail Reboot Oil
Olea Europaea (Olive) Fruit Oil, Camellia (Tsubaki) Japonica Seed Oil, Simmondsia Chinensis (Jojoba) Seed Oil, Rosehip Oil Rosa (Rosehip) Canina Fruit Oil, Ricinus Communis (Castor) Seed Oil, Oryza Sativa (Rice) Bran Oil, Melaleuca Alternifolia (Tea Tree) Leaf Oil
Cuticle and Nail Reboot Oil Customer Reviews
It's the first-ever treatment in the world for cuticles and nails that will also provide ongoing defense for fungus and inflammation and wound healing through daily regular use.

Doron Santo - Creator, Explorer, Sage

I have always struggled with dry, cracked nails and cuticles, but the Nail Reboot Oil has been a life-changer for me. The velvet-rich texture of the oil feels great on my nails and cuticles, and it doesn't leave any oily residue. After using it for just a few days, I noticed a significant improvement in the hydration of my nails and cuticles.

Phoebe V.
What Makes Our Cuticle and Nail Reboot Oil So Special
It's One Of A Kind

The new standard of what you should expect from your cuticle and nail repair oils and everything in between.

Works For Hours

Velvet texture. Non slipperly. Remarkable ability to retain moisture and penetrate the deepest layers of the skin

Protects And Heals

With every application due to its anti-inflammatory, soothing for Soft Cuticles, Strong Nails, Fast Growth, and rapid Nail Repair
Love!
This nail oil is great. It is improving my nails in the past 2 weeks I have been using.
This really works!! Fantastic stuff!
This oil really lives up to its claims and is worth every penny. Best cuticle oil I've ever tried. It is not greasy and soaks in quickly, leaving cuticles supple and healthy. Has been slowly helping my nails get stronger and thicker, too. My fingertips used to crack and get painful hangnails but not anymore. The best part is this oil has really helped me stop biting my nails. My hands look great now! Absolutely LOVE this product. The bottle with dropper is easiest to apply rather than the rollerball.
Pleasantly Surprised and Impressed
OK...it can be a little messy to apply as it's not easy to control the amount applied, but that is not a big issue as you can massage the excess into your fingers/hand... Very impressed with how quickly it restored my nails after removing gel nail polish. The nail beds are a healthy pink and the nails are clear with much improved flexibility. Aslo very impressed by the lack of any strong odor. Using it on my fingers and toes...I have no issues recommending this product.
After two days of using this ONSEN secret nail oil my nails are much stronger already
I worked a job for 6 years that ruined my nails always. Now Iam not doing that job and my nails have grown back , but I have foregotten how to take care of them. They are very long now , but when my hands were wet they would get very soft and bend, wih hurts and leads to broken nails . I went hunting on amazon and found this item , I liked the reveiews that i read , the price was good so I orederd a bottle , It was shipped in less than 24 hours from purchase wich is cool.Some others who have bought this oil did not like the roller ball , Iam PRO-rollar ball. It takes using the ball abit to losen it up but once you have it moving the little silver ball distributes the oil easily onto my cuticles wich I then rub onto my nails . Iam never going to accidently spill this anywere , so I like this feature . The oil itself has such a soft scent Its not really noticable, It dries clean on my nails its not sticky . After almost two days of using this oil on my nails the strength has improved , my nails are more white at the ends now . Iam very happy with my ONSEN secret oil , my husband says that my nails are very pretty and our cat is asking me for dayly back scritches at least two to three times a day , lol I do recomend this product its also made in the USA Los Angeles
Your questions, answered.
How fast does the nail reboot oil work?

The first application will already provide an unmatched sensation and results. With regular use, you can expect your nails and cuticle to look healthier and more beautiful than ever!
Is it sticky? Does it leave an oily feeling or residue?

Nope, it has a luxurious, non-greasy formula, so you'll get to enjoy a velvety texture that absorbs quickly and lasts all day!
Can this be used daily over polish, gel or acrylic nails?