Lift & Repair Skin Program
Time Freeze Lift
Regular price

$287.00

Sale price

$247.00
60-Day Money Back Guarantee
Your secret to timeless beauty - his dynamic combination is designed to combat the signs of aging by reducing wrinkles, boosting collagen production, and promoting skin elasticity
Bio Cell Lift Mask (30ml):
Experience an instant non-surgical facelift, delivering remarkable effects for up to 8 hours.
Diminish forehead creases, wrinkles, and fine lines.
Reduce the visibility of acne scars, stretch marks, rosacea, and enlarged pores.
A safe alternative to Botox® with enduring benefits for improved skin texture.
Promotes skin elasticity for a plumper, more youthful appearance.
Key Ingredients: Onsen Hot Springs Minerals Distillate, Peptides, Glycerin, Artichoke Leaf Extract, Pomegranate Extract, Witch Hazel Extract.
How to Use: Apply a thin layer to cleansed and dry skin, allowing it to work for 30 minutes before rinsing with warm water.
Time Freeze Serum (20ml):
Combat aging signs with a potent serum that tightens and lifts sagging skin.
Formulated with advanced peptides and skin-loving ingredients for a youthful complexion.
Boosts collagen production, diminishing the appearance of fine lines.
Lightweight and fast-absorbing, seamlessly integrating into your skincare routine.
Tenseless Cream (25ml):
A luxurious cream that enhances the lifting effects of the Bio Cell Lift Mask.
Firms and tightens the skin, promoting a more lifted and youthful appearance.
Hydrates and nourishes, leaving the skin soft, smooth, and rejuvenated.
Ideal for daily use, providing long-lasting hydration and anti-aging benefits.
BENEFITS

Fast reduction of expression lines
Re-plumps the skin
Protects global cellular integrity
Stimulation of collagen
Anti-radical effect
Key Ingredients

In the kit:
Daily Hydration - 35ml
Night Contour Cream - 25ml
Smoothing Eye Serum - 20ml
Soothing Eye Cream - 20ml
Tenseless Serum - 25ml
How to use

Bio Cell Lift Mask (30ml):

Application: Thoroughly cleanse and dry your skin. Squeeze the pump once for a full face and neck application. Briefly warm Bio Cell Lift on the back of your hand before applying a thin layer.
Absorption: Allow the active ingredients to work without massaging. Keep facial movement to a minimum for at least five minutes.
Duration: Leave on for 30 minutes, then rinse with warm water or leave on for a quick fix and extra smooth appearance when heading out.
Time Freeze Serum (20ml):

In your evening routine: After cleansing, dispense a small amount onto fingertips. Gently massage onto face and neck, focusing on areas with fine lines. Allow the serum to fully absorb.
Tenseless Cream (25ml):

In your morning routine: After cleansing, dispense a small amount onto fingertips. Smooth over face and neck, focusing on areas needing extra care. Gently massage into the skin, allowing full absorption before applying makeup or additional products.
Full Ingredients list
EASY EXCHANGE, RETURN & REFUND

TRY IT FOR 60 DAYS FIRST. If you are not 100% happy, we will issue a full refund less shipping.

SMALL BATCH PRODUCTIONS for fresh and potent product and experience.

SAME DAY SHIPPING on all orders before 2pm PST.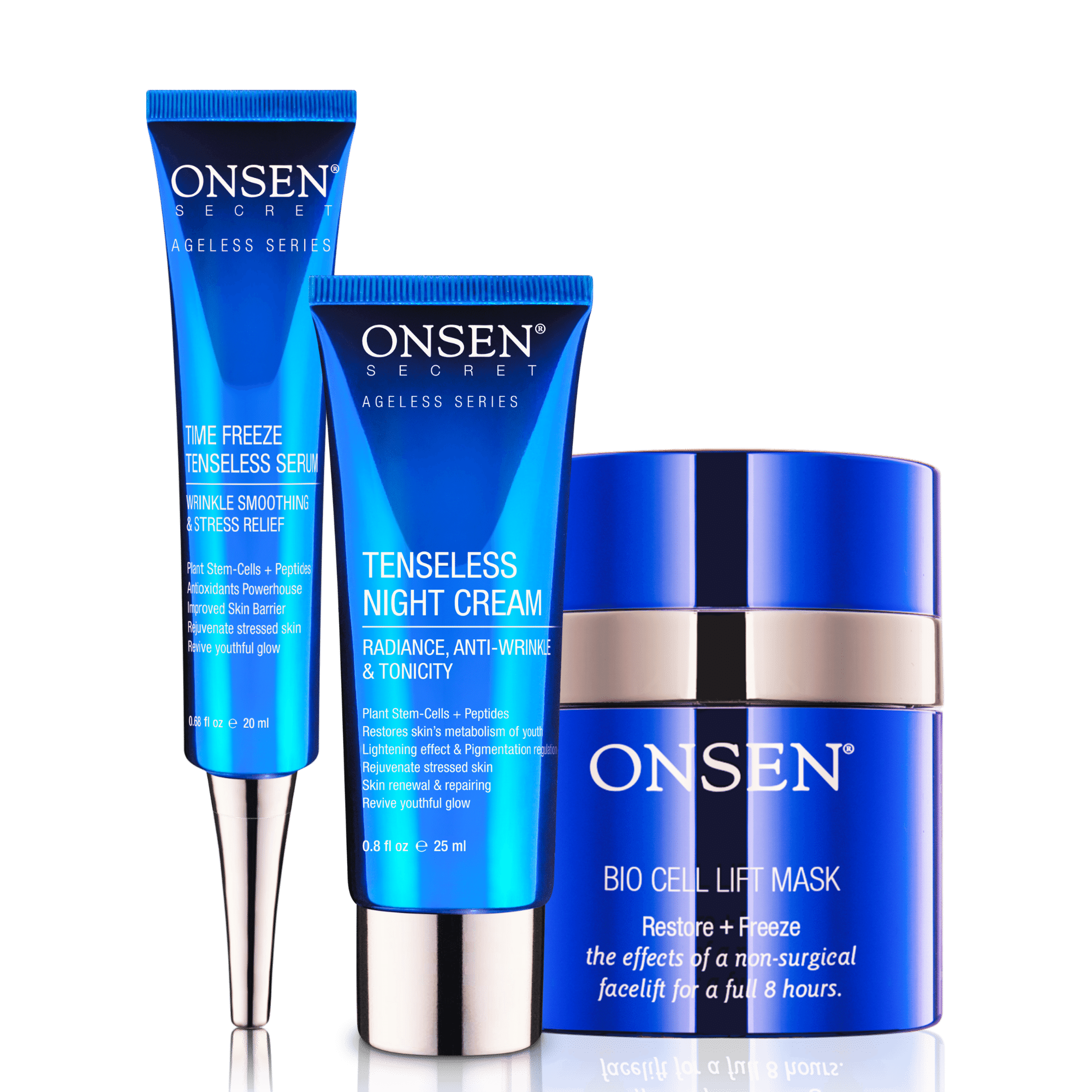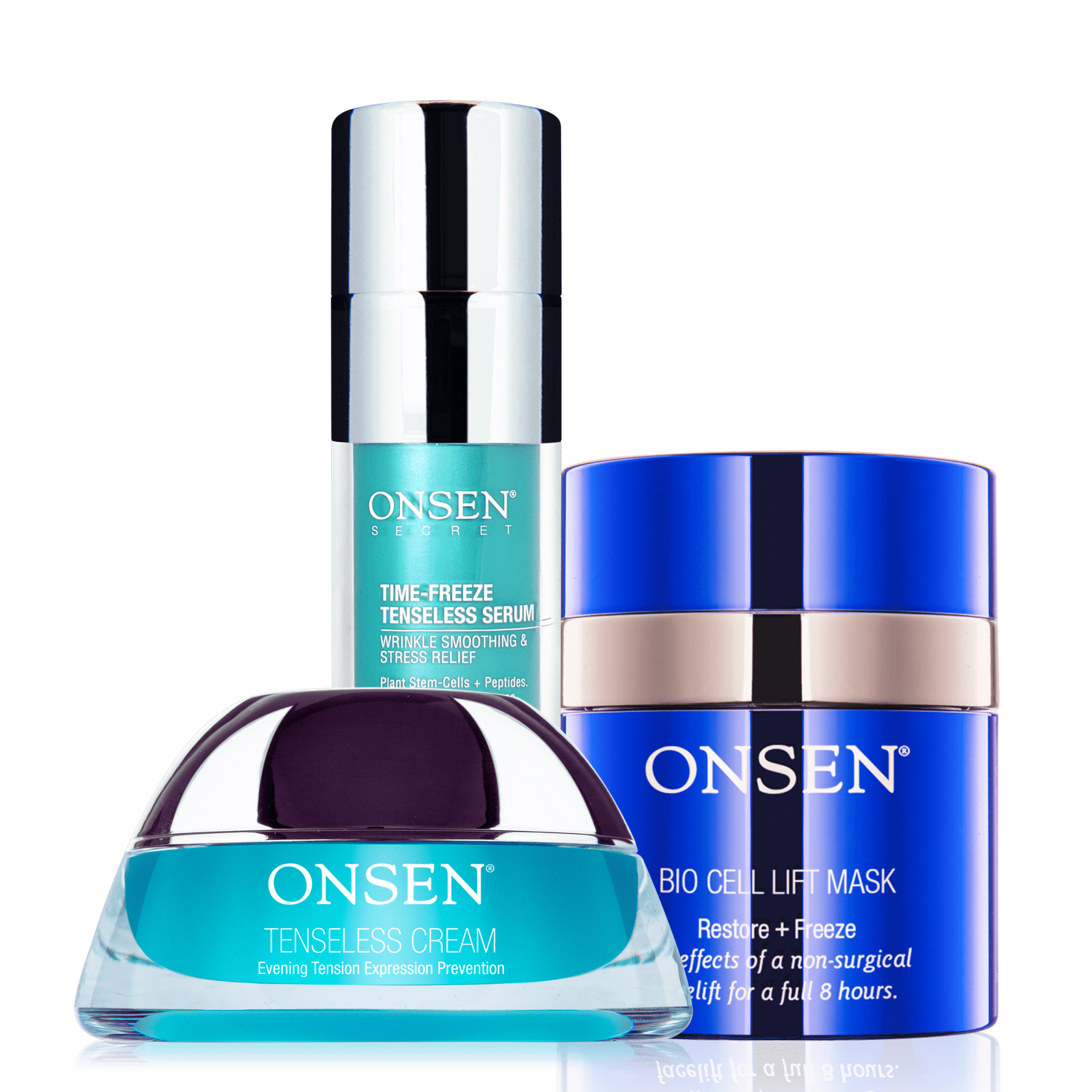 Time Freeze Lift Customer Reviews
"In my late 60s, I've embraced aging gracefully, but this trio takes it up a notch. The serum and cream make my skin feel smoother, and the Bio Cell Lift Mask gives an instant lift and glow. Even my friends notice the positive change. It's never too late to care for your skin, and this trio helped me rediscover my youthful glow. Thank you for this gift of beauty!"

Sharon S.

"As a 64-year-old guy, I never thought I'd see the day when I'd be writing a skincare review. But after trying this kit I had to share my experience. The Tenseless Serum and Cream smoothed out my wrinkles, and the Bio Cell Lift Mask gave my face an instant lift. My wife noticed the change within weeks, and I've never felt better about my skin!"

Jason M.
What Makes Our Time Freeze Lift So Special
Japanese Hotspring Minerals

Infused with the most authentic ingredients and minerals that awaken the power of natural healing from within

Filters UVA and UVB Radiation Naturally

Without using SPF, thus it provides extra moisture and protection at the same time

Supported by A Patented Micro Water Complex

This brings energy packets that helps the skin reawaken itself and reengage its own biological process and allows ultimate absorbance
Your questions, answered.
Is the kit suitable for all skin types?

Yes, the kit is suitable for all skin types, including sensitive skin. It is formulated with natural ingredients that are gentle on the skin and do not cause irritation.
How long does it take to see results?

Results may vary depending on individual skin type and condition. However, many users report seeing a visible improvement in their skin's appearance after just a few weeks of use.
Can the kit be used as a standalone skincare routine?

Yes, the kit contains all the essential products needed for a complete skincare routine, including a daily hydration cream, a night contour cream, a smoothing eye serum, a soothing eye cream, and a tenseless serum.
Q: Why do you provide premium quality products at an affordable price point? It doesn't feel genuine.

A: Onsen Secret is the brainchild of Doron Santo, a product-development expert for over two decades with extensive personal experience bathing in the Onsens of Japan.

Armed with a deep passion for hot springs healing and proven experience in creating successful products, Doron found a way to create Onsen Secret products in the most efficient, cost-friendly way that also allows for quality ingredients and packaging. That is why we're able to offer our products at the price point we do.

More than maximizing profit, we want to spread the Japanese wisdom of Onsens through our brand. Making them affordable ensures greater accessibility, with our expertise guaranteeing no compromise on quality.
Q: Is there a moneyback guarantee?

A: Absolutely! At Onsen Secret, we want you to experience the amazing results firsthand. That's why we offer an incredible 60-day 100% satisfaction guarantee. We're confident that you'll love our Nail Reboot Challenge Kit, but if, for any reason, you're not completely thrilled with your purchase, don't worry! Simply reach out to our friendly customer support within 60 days of your purchase, and we'll be more than happy to assist you with a hassle-free refund or exchange. Your satisfaction is our top priority, and we want you to feel confident and assured when trying out our product. So go ahead and take the plunge – try it risk-free, and get ready to show off your rejuvenated nails!