Perfect Nail Buffer Block
Nail Reboot Buffer
Regular price

Sale price

$14.95
60-Day Money Back Guarantee
EASY EXCHANGE, RETURN & REFUND

TRY IT FOR 60 DAYS FIRST. If you are not 100% happy, we will issue a full refund less shipping.

SMALL BATCH PRODUCTIONS for fresh and potent product and experience.

SAME DAY SHIPPING on all orders before 2pm PST.
This mess-free, compact nail block is the quickest way to repair and restore damaged nails. It smooths out ridges and splits, removes stains, and provides a protective moisture barrier to help your nails heal and grow. The ultimate shine finish lasts up to 10 days, making it perfect for those who want naturally beautiful, healthy long nails without going to the salon. This natural and safe product is especially helpful after acrylic nails but also works great to keep healthy nails strong. With improved blood circulation and increased nail growth, you'll have longer, thicker nails in no time.
BENEFITS

- Smooths out ridges and splits
- Removes stains
- Provides a protective moisture barrier
- Ultimate shine finish that lasts up to 10 days
- Repairs damage after acrylics
- Improves blood circulation to the nail
- Promotes longer, thicker nails
- Natural and safe
- Convenient and mess-free
- Replaceable pads for extended life
- No harsh chemicals
- Small, compact size is easily carried in a bag or stored in a drawer
How to use

NAIL FILE
Before you use the nail block, we recommend using a nail file to shape the tips of your nails. It gives you a more complete look.
To use: Start at the outer edge of one nail. Hold the file at a 45-90 degree angle against the nail edge and sweep the file towards the center of the nail. Avoid rubbing the file back and forth. This repeated action could cause your nail to split. Repeat this until your nail tip is the desired shape.

NAIL BLOCK - Three Simple Steps

The healing nail block can be used to repair and restore your damaged nails, and to maintain healthy, shiny nails.
To use: With clean, dry hands, hold the block by its ends between your thumb and finger. (Avoid touching the white pads if possible. The oils in your skin can stain them and lessen the life of the pads.) Use slight pressure to slide the surface of the pad along your nail for about 5-10 seconds. Repeat for each nail.
Step 1- Yellow Side: Smooths nail surface, evens out ridges, and removes stains from nails.
Step 2 - Blue Side: This will give your nails flawless polish and stimulate nail growth.
Step 3 - White Side: The soft white pad buffs the nail surface and adds a protective coating to give it a finished, glossy shine.
Recommended: Follow nail block use with Onsen's Cuticle Conditioner. Our cuticle conditioner nourishes the skin around the nail and encourages healthy nail growth. It also helps to prevent painful hangnails from forming.

MAINTENANCE
Make your nail block last longer with easy maintenance!

Protect your nail block. Place the buffer back in its wrap, or in a protective bag, after each use to shield it from dirt and humidity.
Clean buffer strips with a cotton pad and rubbing alcohol
Replace worn-out pads on your Onsen nail block with easy to use, stick and peel replacement strips (sold separately). Simply peel off the old pads and replace them with a fresh set as needed. "
Full Ingredients list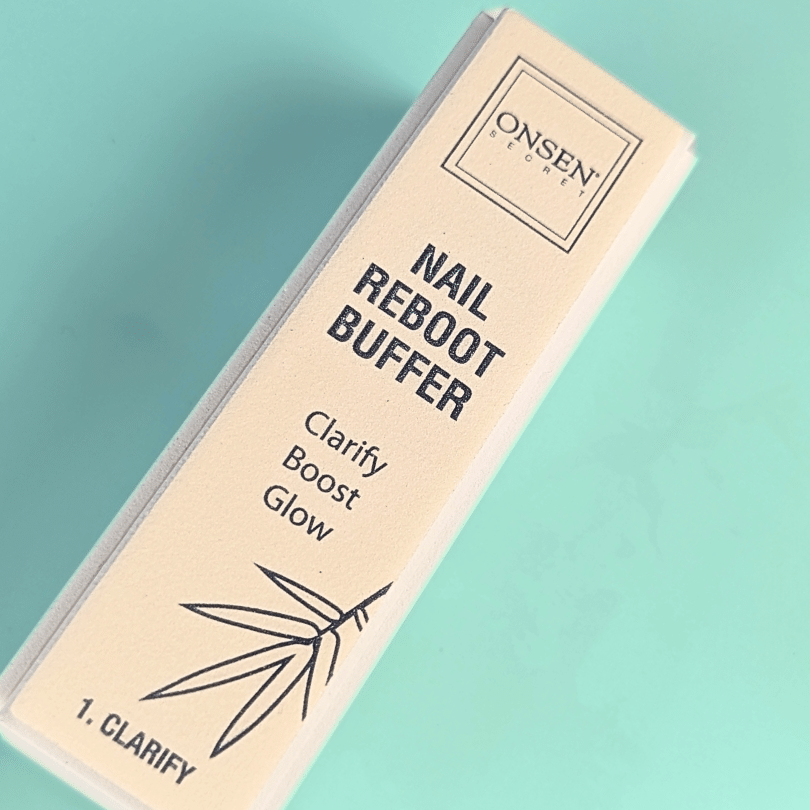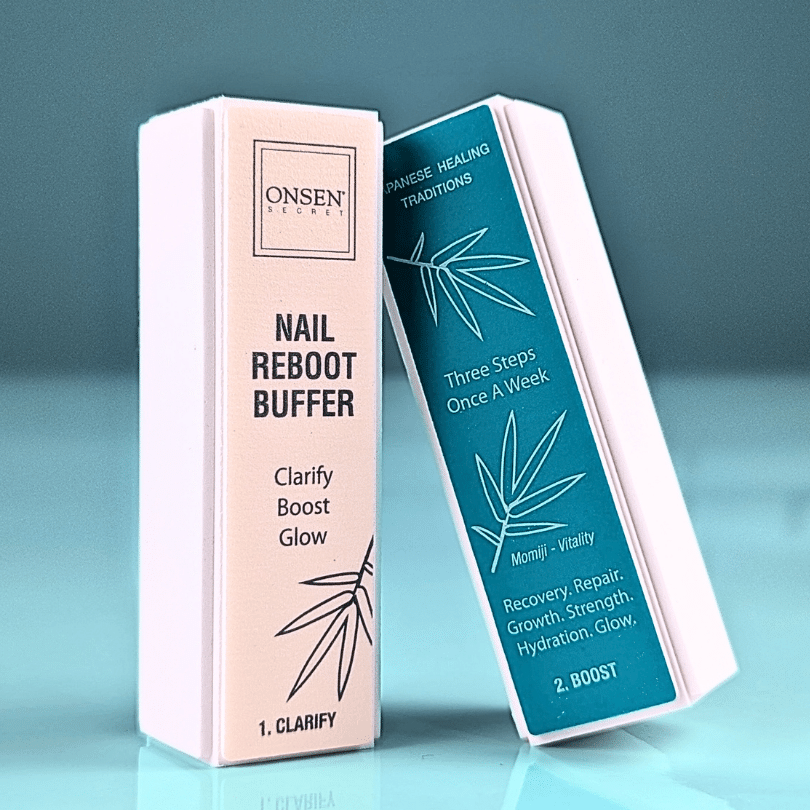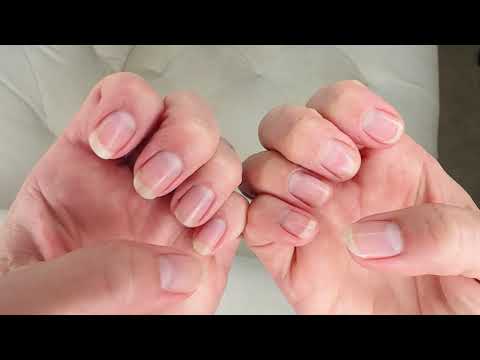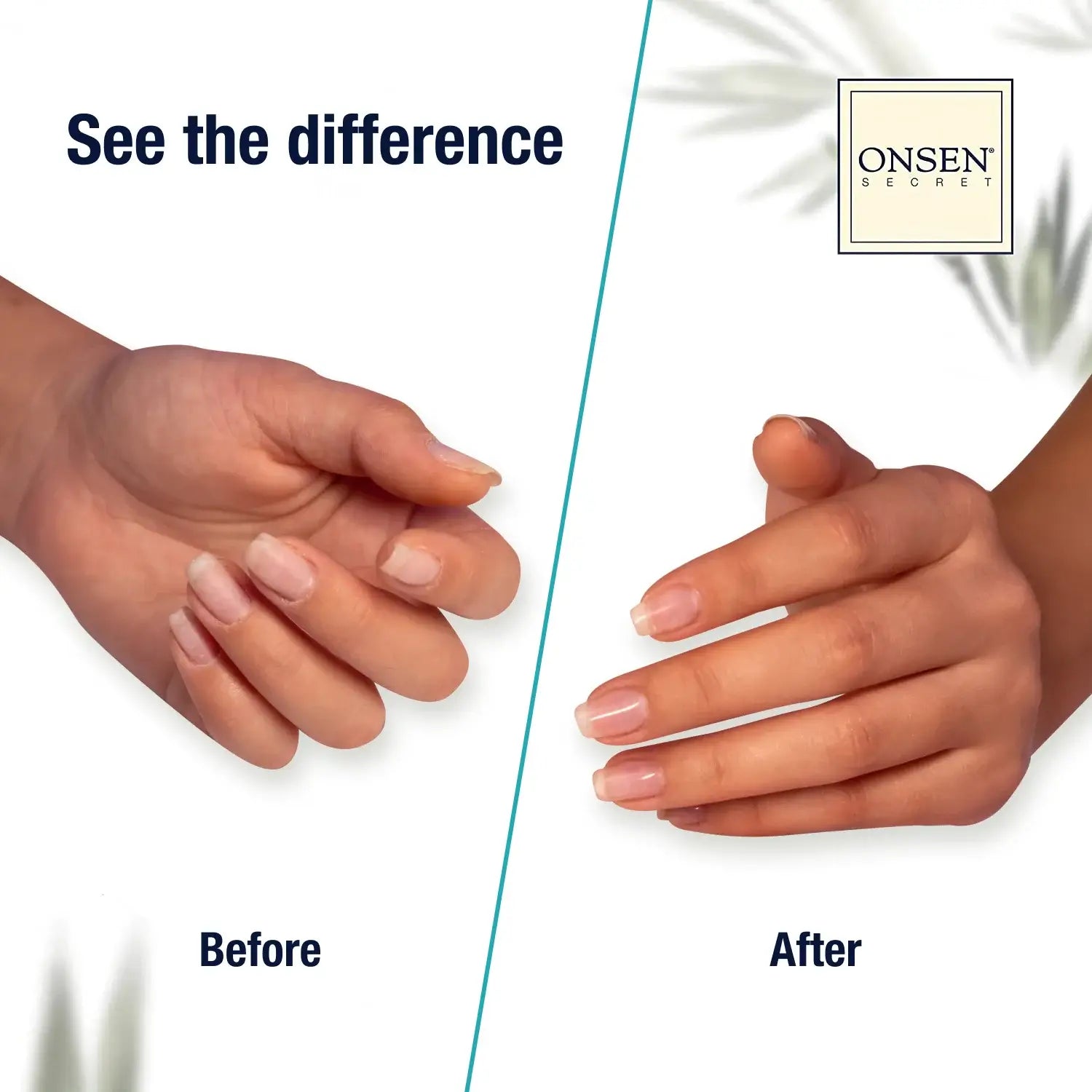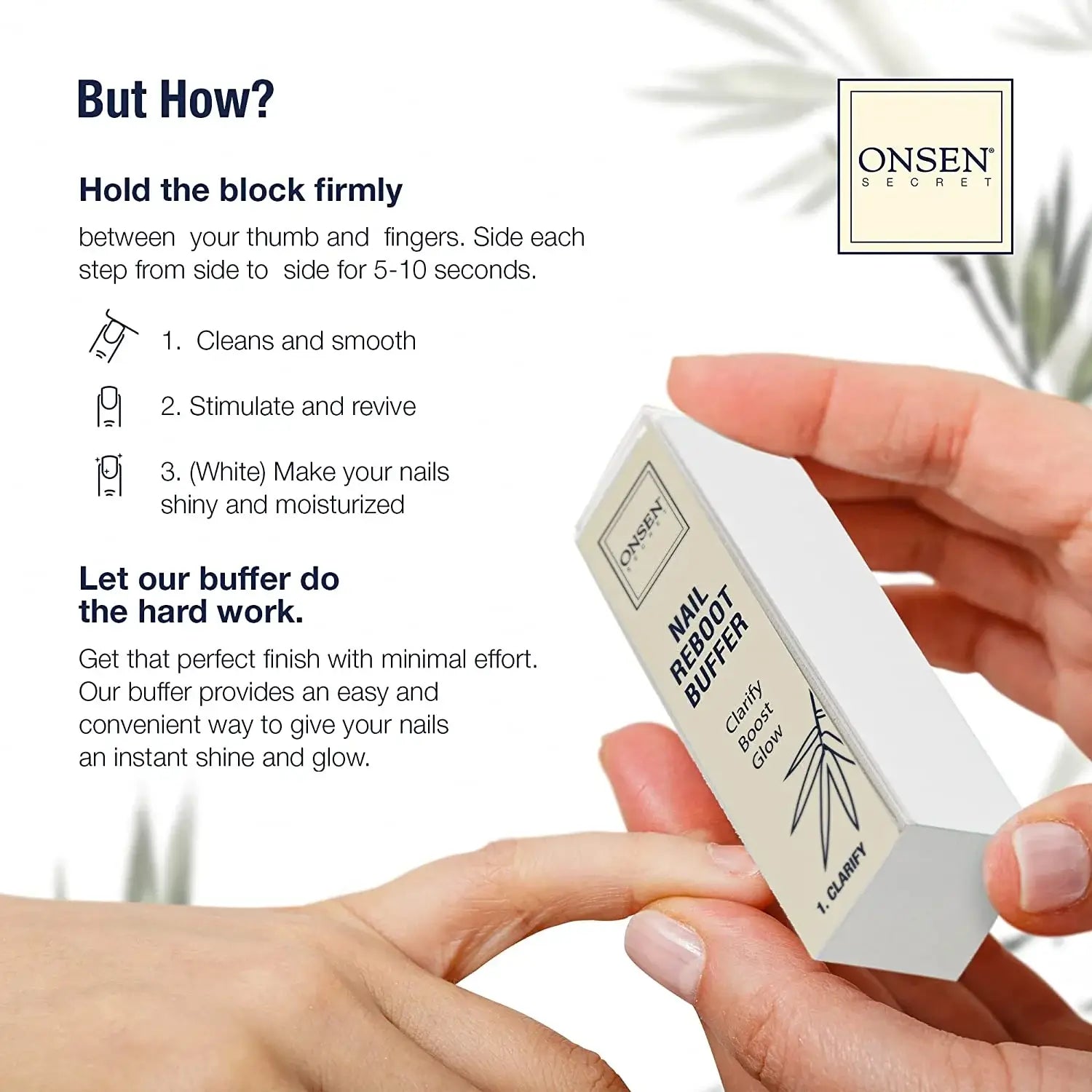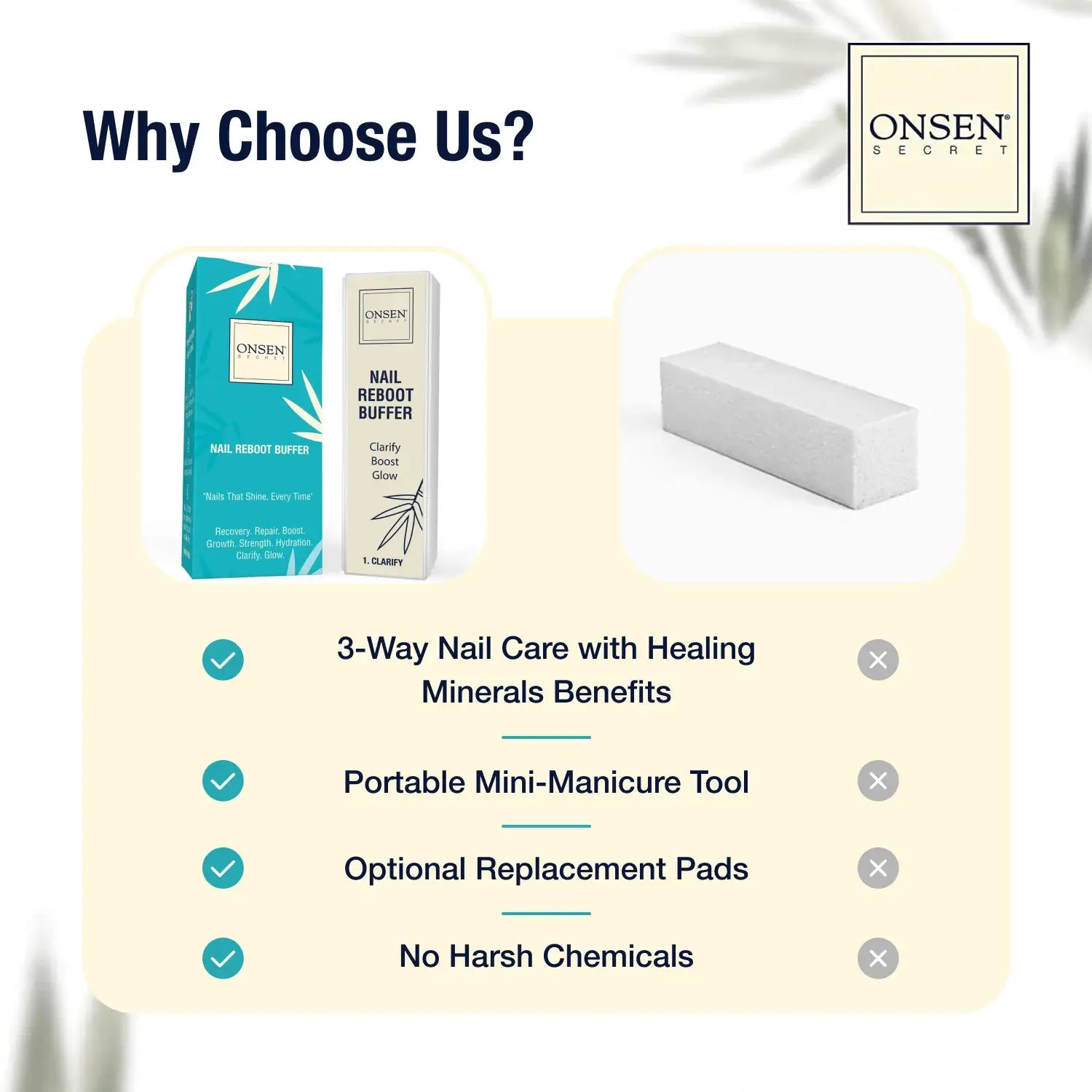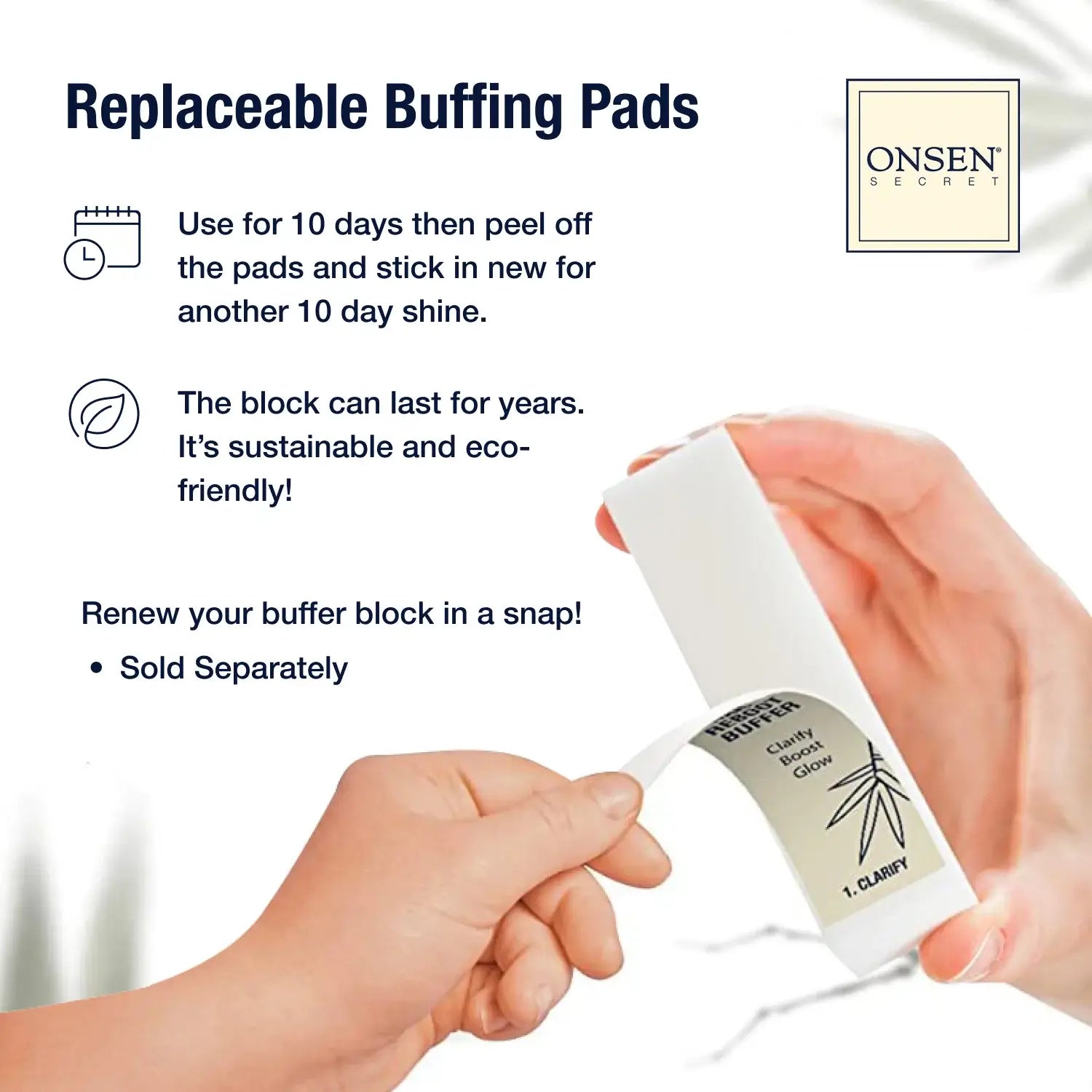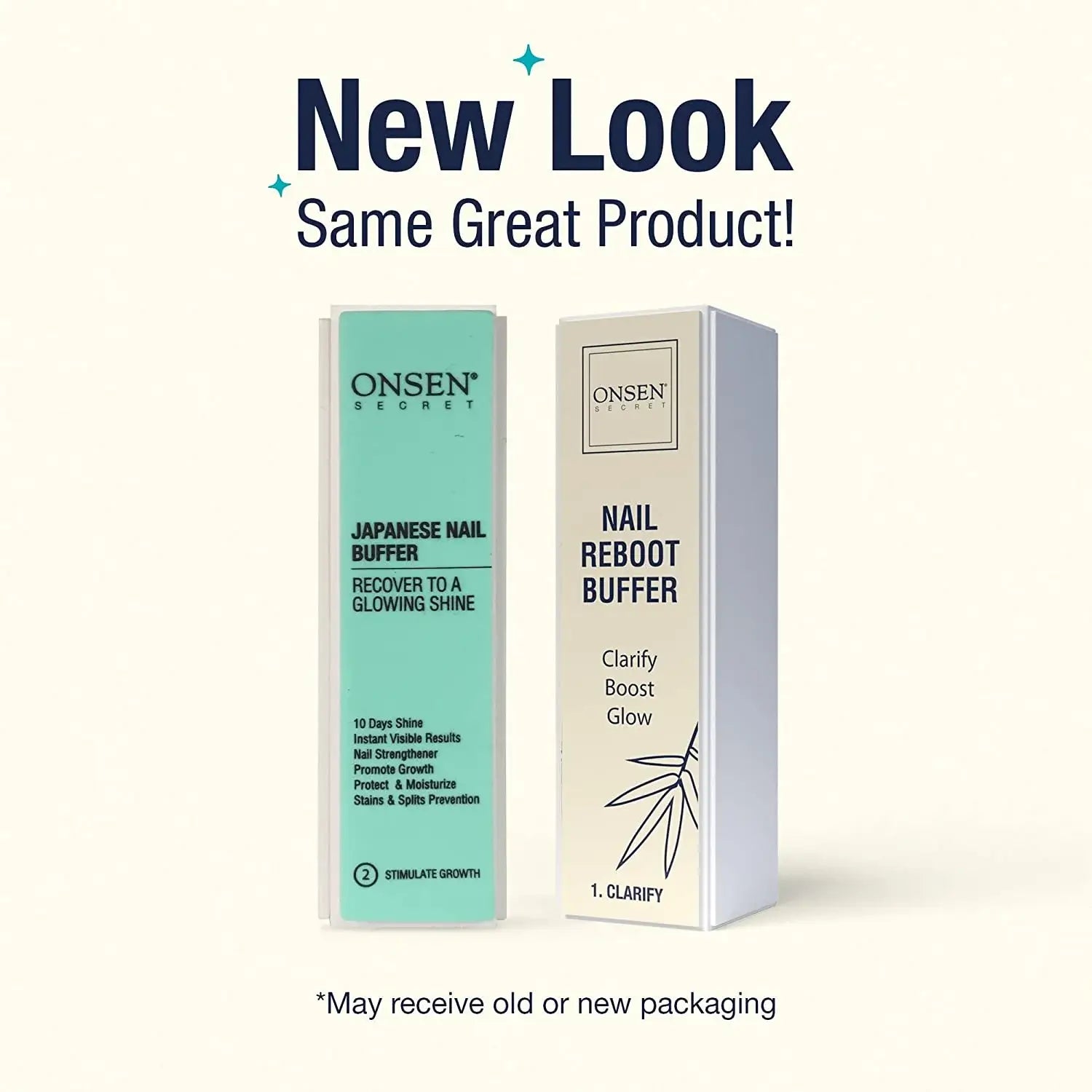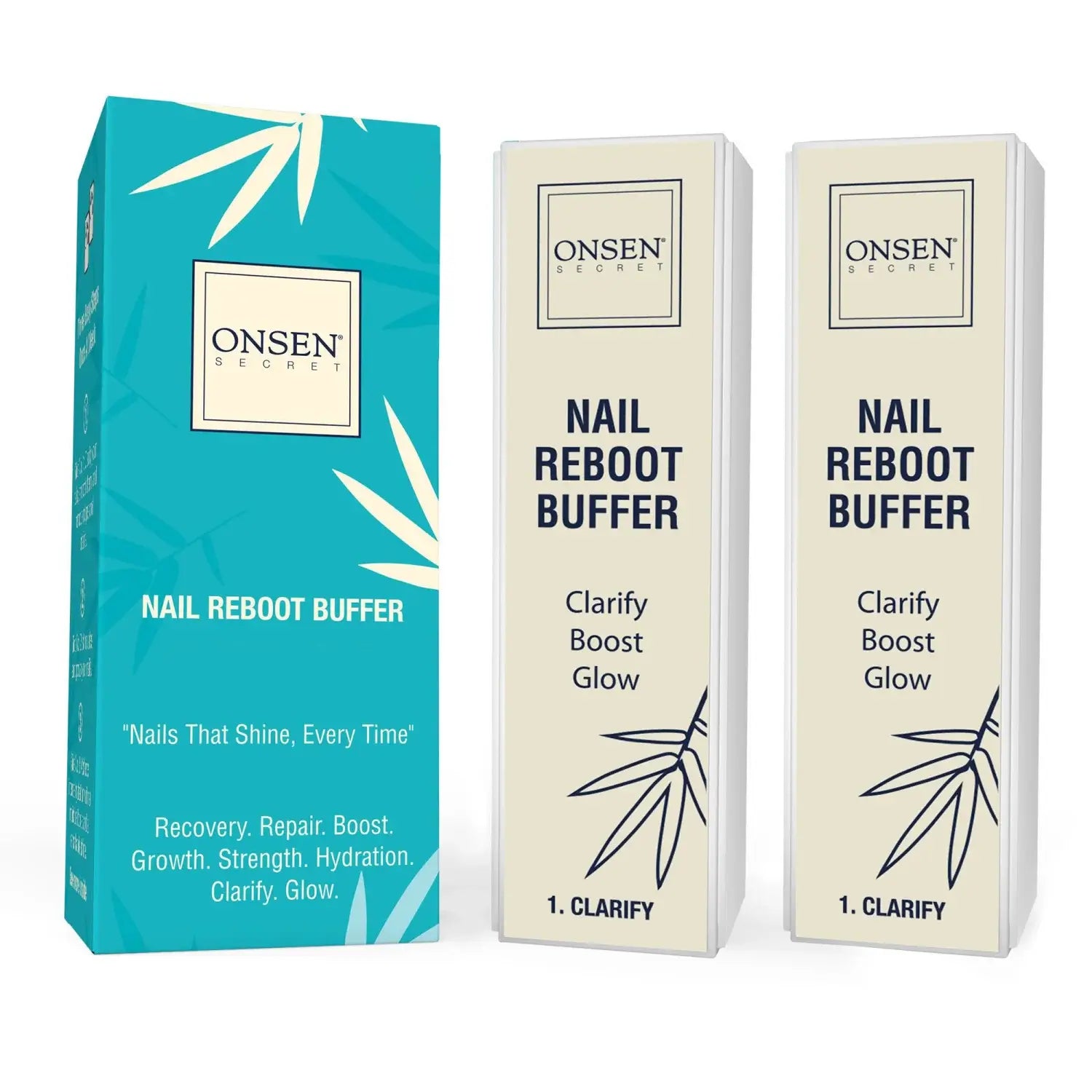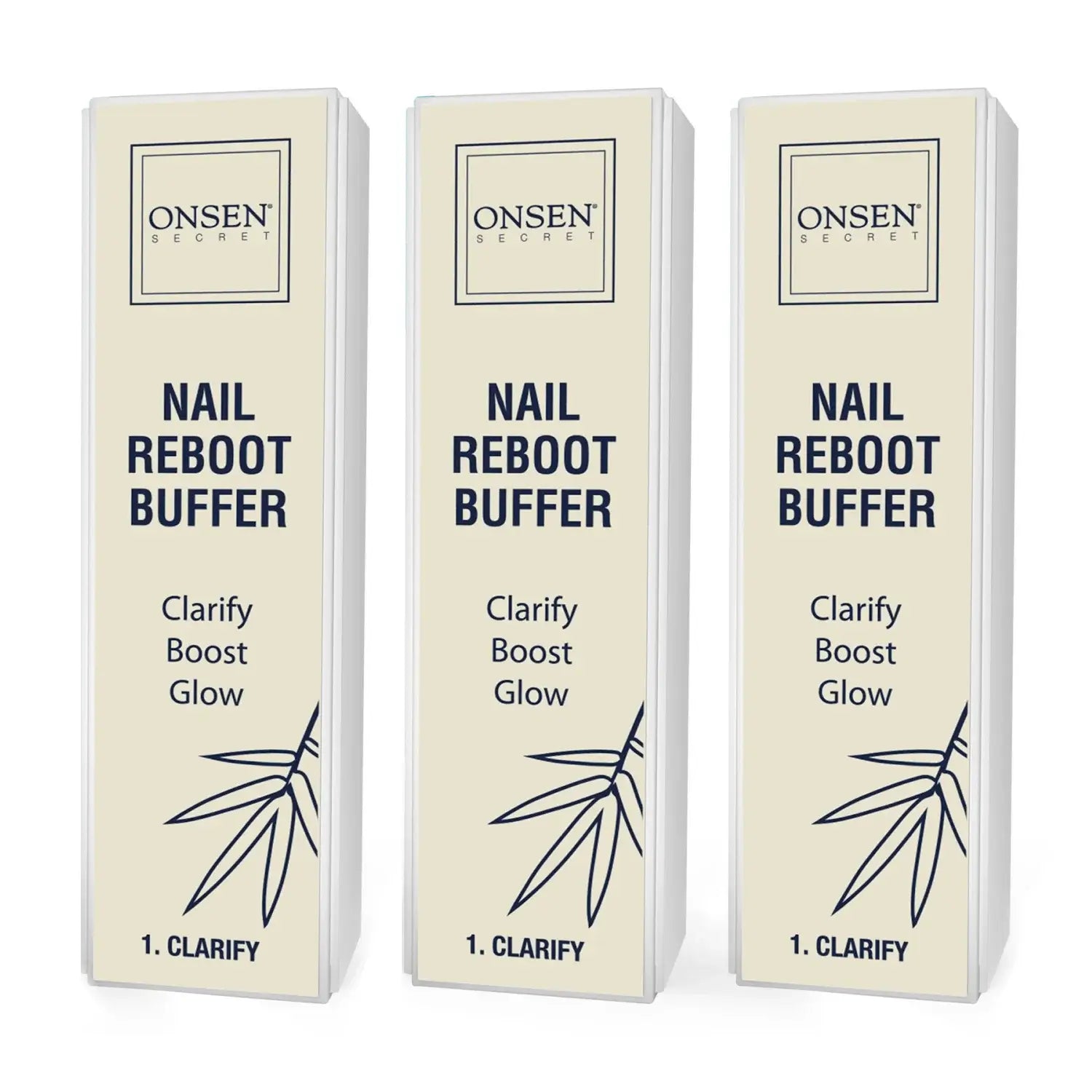 Nail Reboot Buffer Customer Reviews
I love this nail block! It's compact, mess-free, and has everything I need to keep my nails looking healthy and strong. It's easy to use, and the results are immediate. I highly recommend this product to anyone who wants natural, beautiful nails without going to the salon!!

Britt S.

I was skeptical at first, but this nail block is a game-changer. It smooths out ridges and splits, removes stains, and gives my nails a beautiful shine that lasts for days. I've noticed a significant improvement in the health and strength of my nails since using this product. It's definitely worth the investment.

Kris J.
What Makes Our Nail Reboot Buffer So Special
Provides A Protective Moisture Barrier

Unlike other nail buffers that can dry out your nails, Nail Reboot Buffer creates a protective moisture barrier that helps your nails heal and grow

Healing & Repairing Properties

Smooths out ridges and splits, removes stains, and provides a protective moisture barrier to help your nails heal and grow. Also improves blood circulation

Immediate, Long-lasting Shine

Not only smooths out ridges and splits but also leaves a beautiful, glossy shine that lasts up to 10 days
Miracle Nail buffer
With one use i have beautiful shiny well manicured naiks.
Game changer
This product is amazing and has changed my nails from peeling, dry, and ragged into gorgeous natural long hard nails! Love it! It's so easy! I keep it within view and spend just a little time and effort to keep them in shape.
Awesome
So incredibly addictive and useful I've been using it every day.
Excellent nail buffer
This buffer works great and shined up my nails to a salon looking clear polish. It lasts about a week, but that is fine by me. Well worth the expenditure!!!
Your questions, answered.
How often should I use the Onsen Natural Shine Healing Nail Block?

It's recommended to use the nail block once a week to maintain healthy, strong nails. If your nails are particularly damaged or you've recently had acrylics removed, you may want to use the block more frequently until your nails are fully restored.
Can I use the Nail Reboot Buffer on my toenails?

Yes, you can use the nail block on your toenails as well as your fingernails. However, since toenails grow more slowly and are generally less exposed to harmful substances than fingernails, you may not need to use the block as often on your toenails.
How do I clean the buffer strips?

You can gently clean the buffer strips with a cotton pad and rubbing alcohol. Keeping your buffer in its wrapper or in a protective bag will help keep it clean and extend the life of the pads. Avoid using harsh chemicals or abrasive materials, as this can damage the buffer and reduce its effectiveness.

The best option is to purchase the Replacement Buffer Pads!