Purifying Night Facial Wash
Aloe Gel Cleanser Night Wash
Regular price

$33.00

Sale price

$36.00
60-Day Money Back Guarantee
Our gentle, yet effective cleanser purifies your skin for a thorough cleanse without stripping off the natural oils and nutrients. Feel refreshed and revitalized with this lightweight cleanser that will leave you feeling smooth and hydrated all day. This calming, soothing face wash is perfect for all skin types and can be used as a mask to kickstart any skincare treatment.
BENEFITS

• Destress & relaxes skin
• Retain moisture & refines texture
• Pure, gentle & efficient
• Cleanses and removes dirt, makeup and impurities without stripping away natural oils or nutrients.
• Helps to clarify the skin for a perfect recovery of natural oils and nutrients while you sleep.
• Keeps skin hydrated and smooth.
• Can be used as a mask to begin any skincare treatment.
• Neutralizes damaging and contaminating particles.
• Allows passage of healthy actives into the skin's depth, so the treatment is most effective.
Key Ingredients

Hyaluronic Acid: A powerful humectant that helps to retain moisture in the skin, keeping it plump and hydrated.

Vitamin E: An antioxidant that helps to protect the skin from free radical damage and reduce inflammation.

Vitamin C: A potent antioxidant that brightens the skin and helps to stimulate collagen production.

Organic Acai: A superfood ingredient rich in antioxidants, vitamins, and minerals that help to nourish and protect the skin from environmental stressors.

Curry Leaf Oil: An essential oil that has anti-inflammatory properties and helps to soothe and calm the skin.

Sesame Oil: A nourishing oil that helps to moisturize and soften the skin.

French Lavender Oil: An essential oil that has antibacterial properties and helps to calm and soothe the skin
How to use

1. Take a pea size and foam the cleanser between the palms to activate. Apply on a dry face and neck in a circular motion.
2. Add water and massage the foam to stimulate the skin.
3. Rinse off with lukewarm water.

Use at least once a day. Preferably at night.

For normal skin types - it is recommended to use the Onsen Facial Milk Wash cleanser in the morning and Aloe Face Wash in the evening.

For Acne-prone skin, it is highly recommended to use the Aloe Face Wash as a mask and leave on the skin for 5 min before rinse.

For Sensitive Skin and facial rash or breakouts, use our Facial Milk Wash morning and night. It can be used as a facial hydration mask as well by leaving it for 5 min before wash.
Full Ingredients list
EASY EXCHANGE, RETURN & REFUND

TRY IT FOR 60 DAYS FIRST. If you are not 100% happy, we will issue a full refund less shipping.

SMALL BATCH PRODUCTIONS for fresh and potent product and experience.

SAME DAY SHIPPING on all orders before 2pm PST.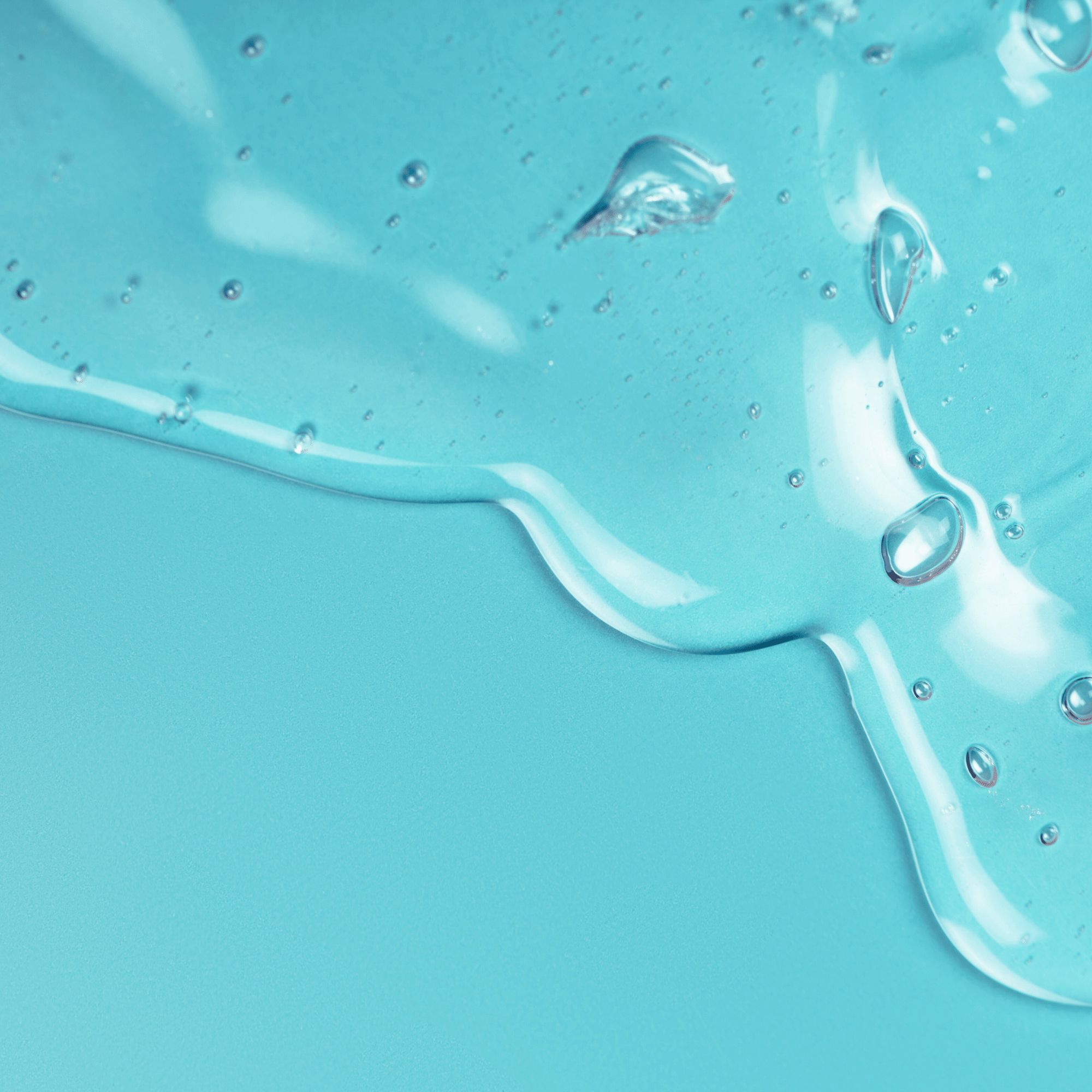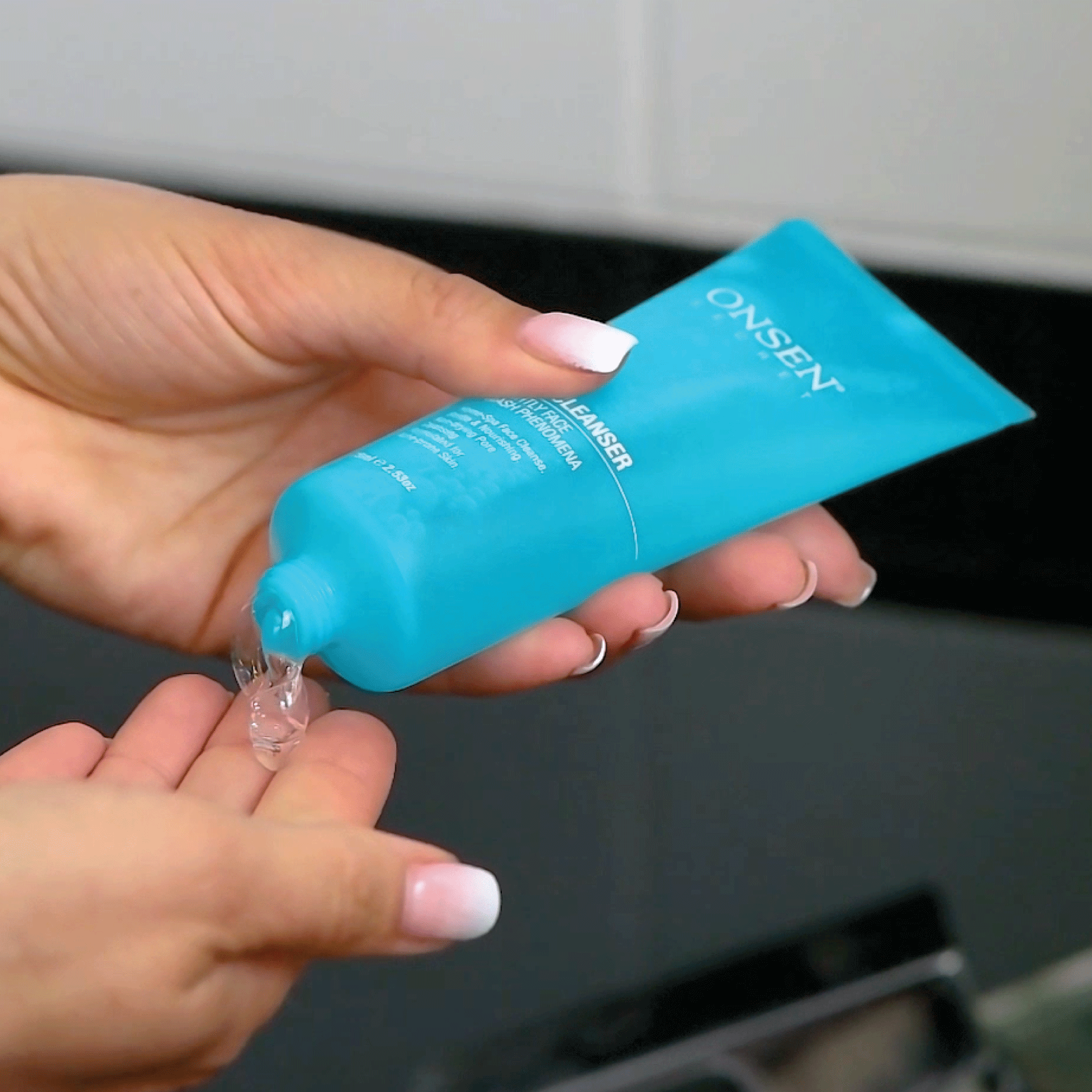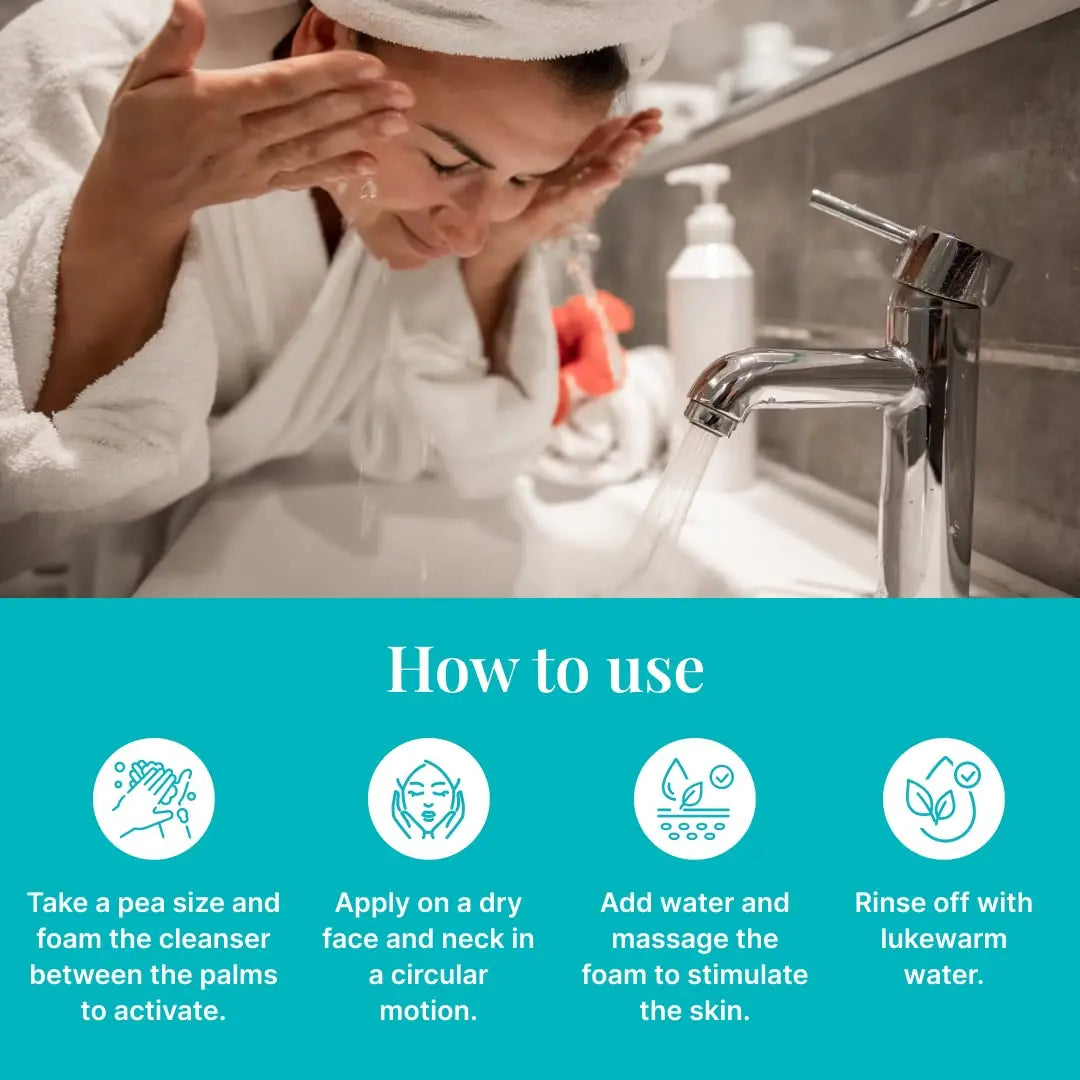 Ingredients - Aloe Face Wash
Onsen Hot Springs Minerals Distillate ™ (Aqua, Calcium, Tourmaline, Thujopsis Dolabrata Branch Extract), Sodium Cocoyl Isethionate, Cocamidopropyl Betaine, Decyl Glucoside, Glycerin, Glycereth 26, Sodium Hyaluronate, Aloe Barbadensis (Aloe Vera) Leaf Gel, Euterpe Oleracea Fruit Extract (Acai Berries), Sodium Ascorbyl Phosphate (Vitamin C), Murraya Koenigii (Curry) Leaf Oil, Cinnamomum Zeylanicum (Cinnamon) Leaf Oil, Sesamum Indicum (Sesame) Oil, Chamomilla Recutita (Matricaria) Flower Extract, Allantoin, Tocopheryl Acetate (Vitamin E), Ethylhexylglycerin, Phenoxyethanol, Lavandula Angustifolia (Lavender) Oil.
Aloe Gel Cleanser Night Wash Customer Reviews
This is my new favorite skin cleanser. It cleans very well, keeps any breakouts at bay, and is NEVER EVER drying. Putting this in my skincare rotation has really helped clean out my pores and freshens up my skin.

Malika B.

Excellent cleanser and does not irritate my skin. I swear by this as it cleans very well without stripping my skin but leaves it feeling soft and fresh. I'm always happy with the end result!

Jordana M.
What Makes Our Aloe Gel Cleanser Night Wash So Special
Supported by A Patented Micro Water Complex

This brings energy packets that helps the skin reawaken itself and reengage its own biological process and allows ultimate absorbance

Versatile & Multipurpose

Can be used in the morning to provide hydration throughout the day, or it can be used as a mask for added nourishment and hydration

Gentle & Moisturizing

Does not strip away natural oils and moisture, leaving the skin feeling soft and hydrated
Love the products. Would like to know what to do about my wrinkles just turned 66 yesterday I know you can't get rid of them but to smooth out
A calming treat for my skin
This facial wash lives up to its name—it's truly a secret weapon for a peaceful skincare routine. The soothing formula never irritates my sensitive skin, and it leaves me feeling relaxed and pampered every time. I'm hooked!
Cleansing made luxurious
This cleanser is like a mini spa treatment every night. The silky texture glides smoothly on my skin, and the subtle fragrance creates a soothing ambiance. It's a treat for my senses and leaves my skin feeling pampered and clean.
Glowing skin guaranteed!
This Onsen Secret Purifying Night Facial Wash is a gamechanger! It cleanses my skin deeply without leaving it dry or tight. I wake up with a refreshed and radiant complexion every morning. Highly recommended!
Your questions, answered.
Is the Aloe Facial Wash suitable for sensitive skin?

Yes, the Aloe Facial Wash is suitable for sensitive skin. It is gentle and moisturizing, and does not contain harsh chemicals that can irritate sensitive skin.
Can I use the Aloe Facial Wash as a mask?

Yes, the Aloe Facial Wash can be used as a mask to begin any skincare treatment. Simply apply a small amount of the cleanser to the face and leave it on for 5-10 minutes before rinsing off with lukewarm water.
Will the Aloe Facial Wash dry out my skin?

No, the Aloe Facial Wash is designed to be gentle and moisturizing, and does not strip away natural oils and moisture from the skin. It helps to retain moisture and keep the skin feeling soft and hydrated.
Q: Why do you provide premium quality products at an affordable price point? It doesn't feel genuine.

A: Onsen Secret is the brainchild of Doron Santo, a product-development expert for over two decades with extensive personal experience bathing in the Onsens of Japan.

Armed with a deep passion for hot springs healing and proven experience in creating successful products, Doron found a way to create Onsen Secret products in the most efficient, cost-friendly way that also allows for quality ingredients and packaging. That is why we're able to offer our products at the price point we do.

More than maximizing profit, we want to spread the Japanese wisdom of Onsens through our brand. Making them affordable ensures greater accessibility, with our expertise guaranteeing no compromise on quality.
Q: Is there a moneyback guarantee?

A: Absolutely! At Onsen Secret, we want you to experience the amazing results firsthand. That's why we offer an incredible 60-day 100% satisfaction guarantee. We're confident that you'll love our Nail Reboot Challenge Kit, but if, for any reason, you're not completely thrilled with your purchase, don't worry! Simply reach out to our friendly customer support within 60 days of your purchase, and we'll be more than happy to assist you with a hassle-free refund or exchange. Your satisfaction is our top priority, and we want you to feel confident and assured when trying out our product. So go ahead and take the plunge – try it risk-free, and get ready to show off your rejuvenated nails!