Intensive Anti-Wrinkle Lifting Mask
Bio Cell Anti-Wrinkle Lift Mask
Regular price

Sale price

$129.00
60-Day Money Back Guarantee
EASY EXCHANGE, RETURN & REFUND

TRY IT FOR 60 DAYS FIRST. If you are not 100% happy, we will issue a full refund less shipping.

SMALL BATCH PRODUCTIONS for fresh and potent product and experience.

SAME DAY SHIPPING on all orders before 2pm PST.
This ultra-powerful peptide and amino acid-packed treatment instantly tightens and tones contours on the face to deliver the remarkable effects of a non-surgical facelift for a full 8 hours. Not only does the Bio Cell Lift Mask have immediate results, but it also has long-term benefits as it improves skin, smoothes wrinkles away, and works to diminish the appearance of forehead creases, droopy brows, crow's feet, furrows, laugh lines, feathered lips, and more.
BENEFITS

Diminsh the Appearance of Forehead Creases, Wrinkles
Reduces the Appearance of Acne Scars, Stretch Marks, Rosacea, and Enlarged Pores
Safe alternative to Botox®
Give Your Skin A Plumper, More Youthful Appearance
Promotes Skin Elasticity
Lifting and Tightening
Key Ingredients

Onsen Hot Springs Minerals Distillate: This is a proprietary blend of minerals sourced from the hot springs of Japan's Nagano region. These minerals include calcium, which plays a role in maintaining healthy skin, and tourmaline, which is believed to have skin-protective and antioxidant properties. Thujopsis Dolabrata Branch Extract is an antioxidant that helps protect the skin from free radical damage. Sodium Silicate and Magnesium Aluminum Silicate help to create a tightening effect on the skin.

Palmitoyl Tetrapeptide-1 and Palmitoyl Tetrapeptide-7: These are two peptides that work together to stimulate the production of collagen and elastin, which are key components of healthy, youthful-looking skin.

Glycerin: This is a humectant that helps to hydrate the skin by attracting and retaining moisture.

Caprylic/Capric Triglyceride: This is an emollient derived from coconut oil that helps to soften and smooth the skin.

Orbignya Oleifera (Babassu) Seed Oil: This is a moisturizing oil that is rich in fatty acids and helps to hydrate and soothe the skin.

Cynara Scolymus (Artichoke) Leaf Extract: This extract is rich in antioxidants and has been shown to help protect the skin from environmental stressors.

Punica Granatum (Pomegranate) Extract: This extract is rich in antioxidants and has been shown to help protect the skin from UV damage.

Hamamelis Virginiana (Witch Hazel) Extract: This extract has astringent properties and can help to tighten and tone the skin.
How to use

- Thoroughly cleanse and dry your skin. Squeeze the product pump once for a full face and neck application. (For specific pinpoint treatment areas, gently press the pump to release a small amount of Bio-Cell Lift and apply.)
- Briefly warm Bio-Cell Lift on the back of your hand before applying a very thin layer to your face and neck.
- Allow the active ingredients in the mask to work. (No need to massage the area.)
- Keep facial movement to a minimum for at least five minutes as the Micro Water Complex™ carries the ingredients into the deeper layers of skin, allowing it to absorb into the skin fully.
- Leave on for 30 minutes, then rinse with warm water and follow with a moisturizing cream.
- RECOMMENDED SPECIAL USE INSTRUCTIONS: Apply the treatment mask an hour or so before attending an event or hosting a special occasion. Let the formulation fully absorb into your skin. (No need to rinse off.) Apply make-up as usual and enjoy a bright, fresh, and confident wrinkle-free look.
Full Ingredients list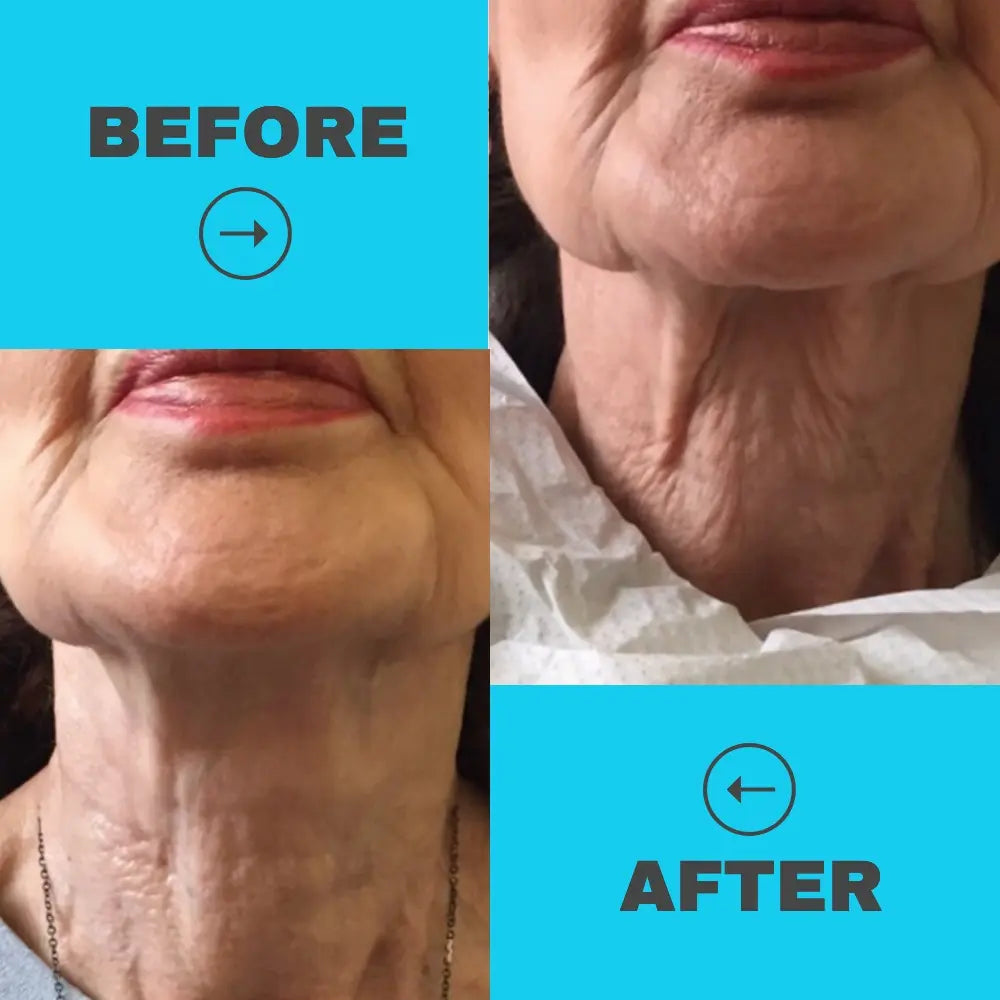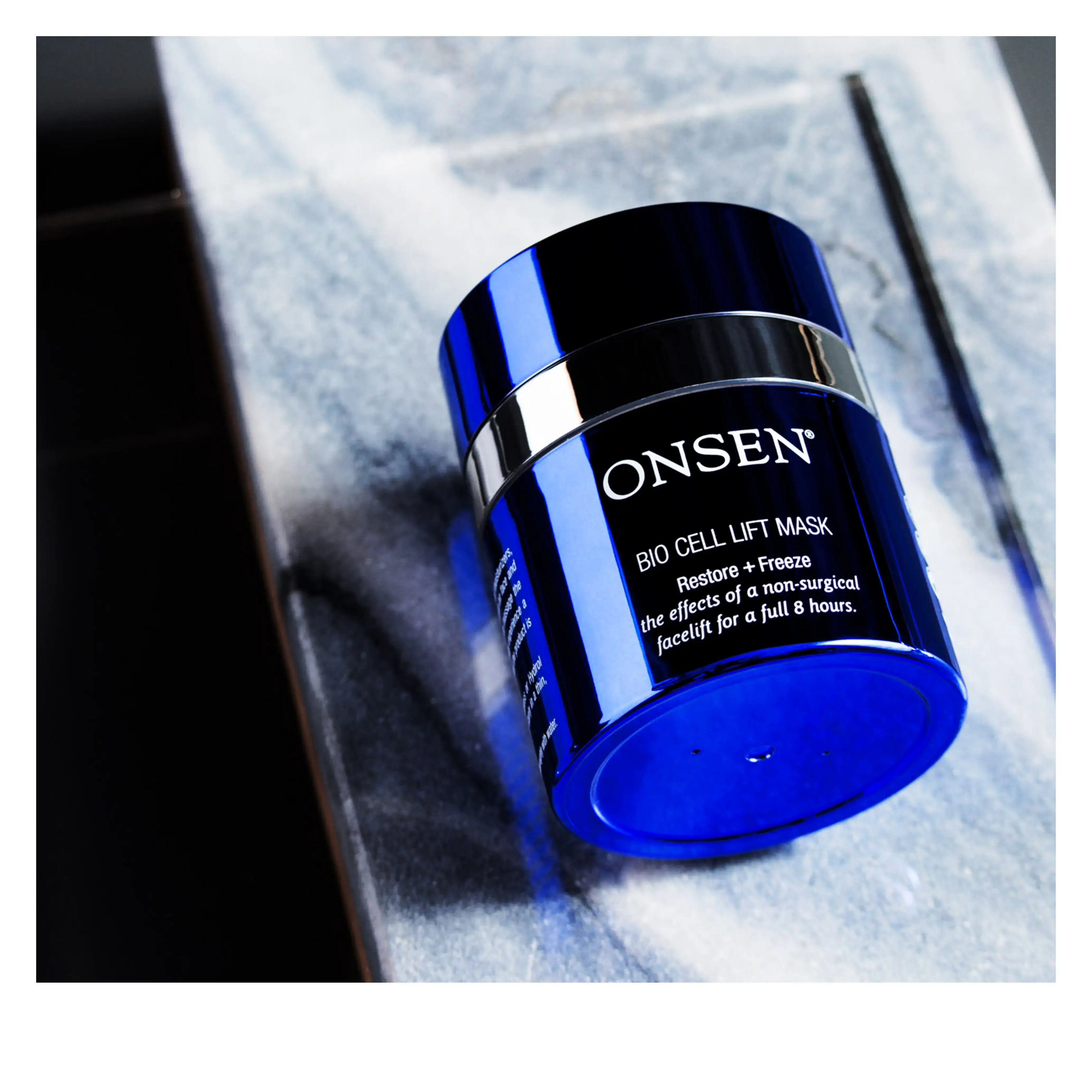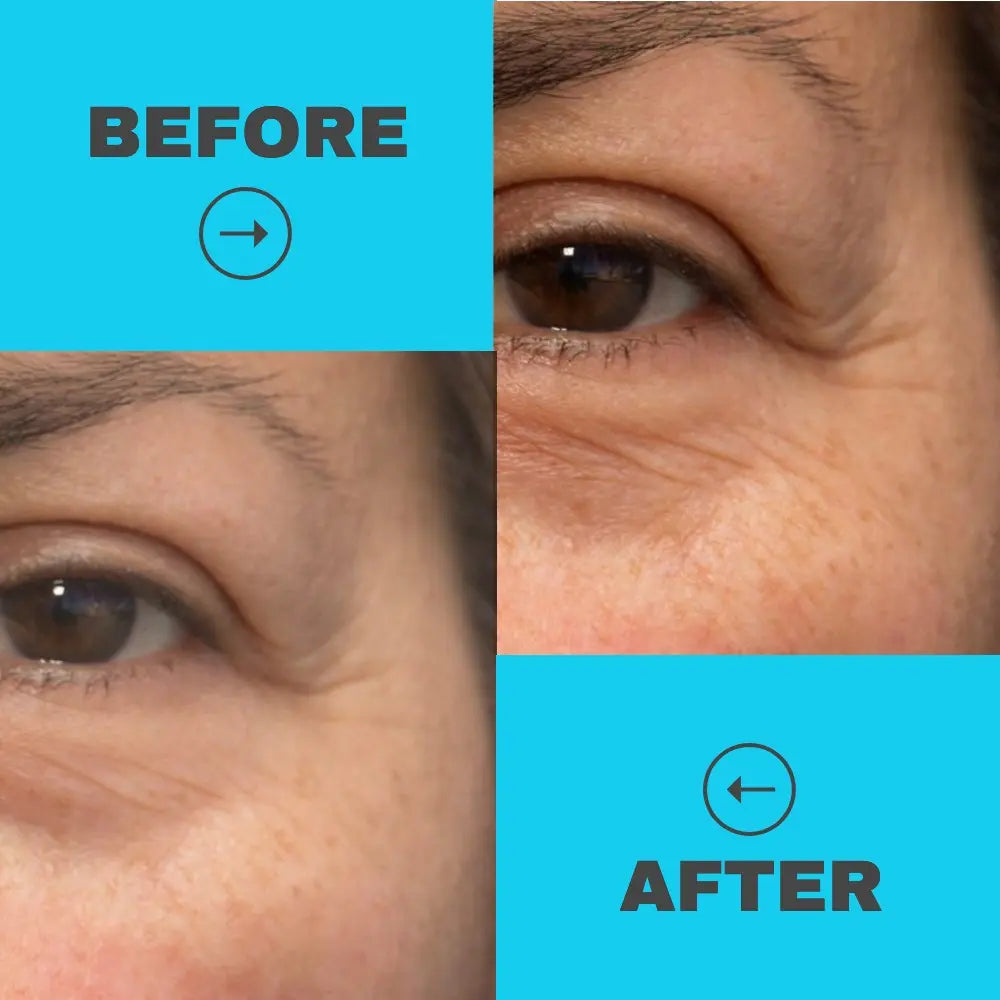 Ingredients - Bio Cell Lift Mask
Micro Water Complex™ (proprietary complex of Calcium Carbonate(Ore), Tourmaline, Coral Calcium(Fossil), Japanese Binchotan Charcoal(Kishu), Maifan(Bakuhanseki), Thujopsis Dolabrata Branch (Aomori Hiba-Tree) Extract, Sodium Silicate, Magnesium Aluminum Silicate, Palmitoyl Tetrapeptide-1, Palmitoyl Tetrapeptide-7, Glycerin, Caprylic/Capric Triglyceride, Orbignya Oleifera (Babassu) Seed Oil, Cynara Scolymus (Artichoke) Leaf Extract, Punica Granatum (Pomegranate) Extract, Hamamelis Virginiana (Witch Hazel) Extract, Sodium Hyaluronate, Phenoxyethanol, Xanthan Gum, Acetyl Hexapeptide – 8, Butylene Glycol, Algae Extract, Lavandula Angustifolia (Lavender) Oil, Tocopheryl Acetate (Vitamin E), Carbomer, Polysorbate 20, Caprylyl Glycol, L-Lysine, L-Histidine, L-Arginine, L-Aspartic Acid, L-Threonine, L-Serine, L-Glutamine
Bio Cell Anti-Wrinkle Lift Mask Customer Reviews
I love all the Onsen products but the Bio-Cell Lift makes me look like I've had a mini face lift. It leaves skin feeling tighter and more youthful. I'm a young 55 and take really good care of my skin and body. This is a game-changer and really helps with wrinkles.

Mindy F.

The Bio Cell Lift Mask works really well. It doesn't require "spa time" to work. Can be put on and you can go about your activities while it does it's magic. No risk of stretching skin.

Susan G.
What Makes Our Bio Cell Anti-Wrinkle Lift Mask So Special
Supported by A Patented Micro Water Complex

This brings energy packets that helps the skin reawaken itself and re-engage its own biological process and allows ultimate absorbance

Safe, More Natural Alternative to Botox®

Visibly diminishes wrinkles, increases firmness, and gives the skin a plumper, more youthful appearance

Versatile and Multi-Purpose

Improves overall appearance of skin and reduces other skin concerns such as acne scars, stretch marks, rosacea, and enlarged pores
Tightens and Tones Like Magic!
The Onsen Secret Intensive AntiWrinkle Lifting Mask is like magic in a bottle. It tightens and tones my face instantly, leaving me with a firmer and more lifted appearance. The best part is that the effects last for a full 8 hours, giving me confidence throughout the day!
Crow's Feet? Not a Problem!
Crow's feet were starting to make me selfconscious, but this lifting mask has worked wonders. Its peptide and amino acidpacked formula tightens and tones the skin around my eyes, reducing the appearance of those pesky crow's feet. I feel more confident and refreshed every time I use it!
A Secret Weapon for Feathered Lips
Feathered lips were a major concern for me, but the Intensive AntiWrinkle Lifting Mask came to the rescue. Its powerful formula not only addresses wrinkles but also works on the delicate lip area. Now my lips look plumper, smoother, and more defined. It's like a mini lip enhancement treatment!
Magic mask
Really impressed with what this product can do. Feels like an instant facelift (only wish it were permanent!). Great to use before going out - definitely visibly reduces fine lines & wrinkles.
Your questions, answered.
Can the BioCell Lift Mask be used by people with sensitive skin?

Yes, the BioCell Lift Mask is suitable for all skin types, including sensitive skin. However, if you have extremely sensitive skin, it is recommended to do a patch test before using the mask on your entire face.
Can the BioCell Lift Mask be used as a replacement for Botox injections?

The BioCell Lift Mask is a safe alternative to Botox injections and other synthetic products. However, it may not provide the same drastic results as Botox injections and should not be used as a replacement for them.
Can I apply makeup after using the BioCell Lift Mask?

Yes, you can apply makeup after using the BioCell Lift Mask. In fact, it is recommended to apply makeup an hour or so after using the mask to fully absorb into the skin and achieve a wrinkle-free look.