Pore Tightening Facial Toner
Clean & Clear Toner
Regular price

$33.00

Sale price

$36.00
60-Day Money Back Guarantee
EASY EXCHANGE, RETURN & REFUND

TRY IT FOR 60 DAYS FIRST. If you are not 100% happy, we will issue a full refund less shipping.

SMALL BATCH PRODUCTIONS for fresh and potent product and experience.

SAME DAY SHIPPING on all orders before 2pm PST.
A non-drying, refreshing, anti-aging facial toner that eliminates excess oil and restores the skin's natural pH balance without irritation, bringing vitality, glow, and restorative harmony into your daily routine.
BENEFITS

Shrinks and tightens pores
Moisturizers and hydrates skin
Adds a layer of protection
Gives your skin pH balance
Refreshes and protects skin
Key Ingredients

Patented Peptides complex amino acids with multi-functional capacity to signal enzymes, promote collagen and relax muscle fibers, and iron out wrinkles.

Hyaluronic Acid: allows the skin to increase moisture retention, helping to improve skin elasticity as we age.

Vitamin C eases and prevents redness and dark circles while energizing the skin

Organic Japanese Green Tea delivers tannins to the skin, effectively tightening skin and reducing fine lines and swelling.

Vitamin E Oil-soluble antioxidant and free radical scavenger. Helps protect the epidermis from early stages of sun damage, reduce moisture loss and improve rough, dry, or damaged skin.

Organic Aloe Vera leaves are filled with moisturizing, soothing, mineral, and amino acid-rich gel. Beneficial for sensitive, irritated skin, supplies moisture directly to the tissue for moisture regulation.

Vitamin A Acting as a regulator to improve skin's texture, firmness, and smoothness, beneficial for stimulating the production of epidermal protein, skin's thickness, and increasing skin's elasticity


How to use

After cleansing, use a small cotton ball to apply the toner on the face and neck. Applying a small amount of toner to a soft cotton ball or pad and gently blotting and wiping your face with it will remove oil and give the appearance of smaller pores.

For best results, use daily as a base prior to the use of creams or serums. An excellent companion for your skin in the morning instead of a cleanser.
Full Ingredients list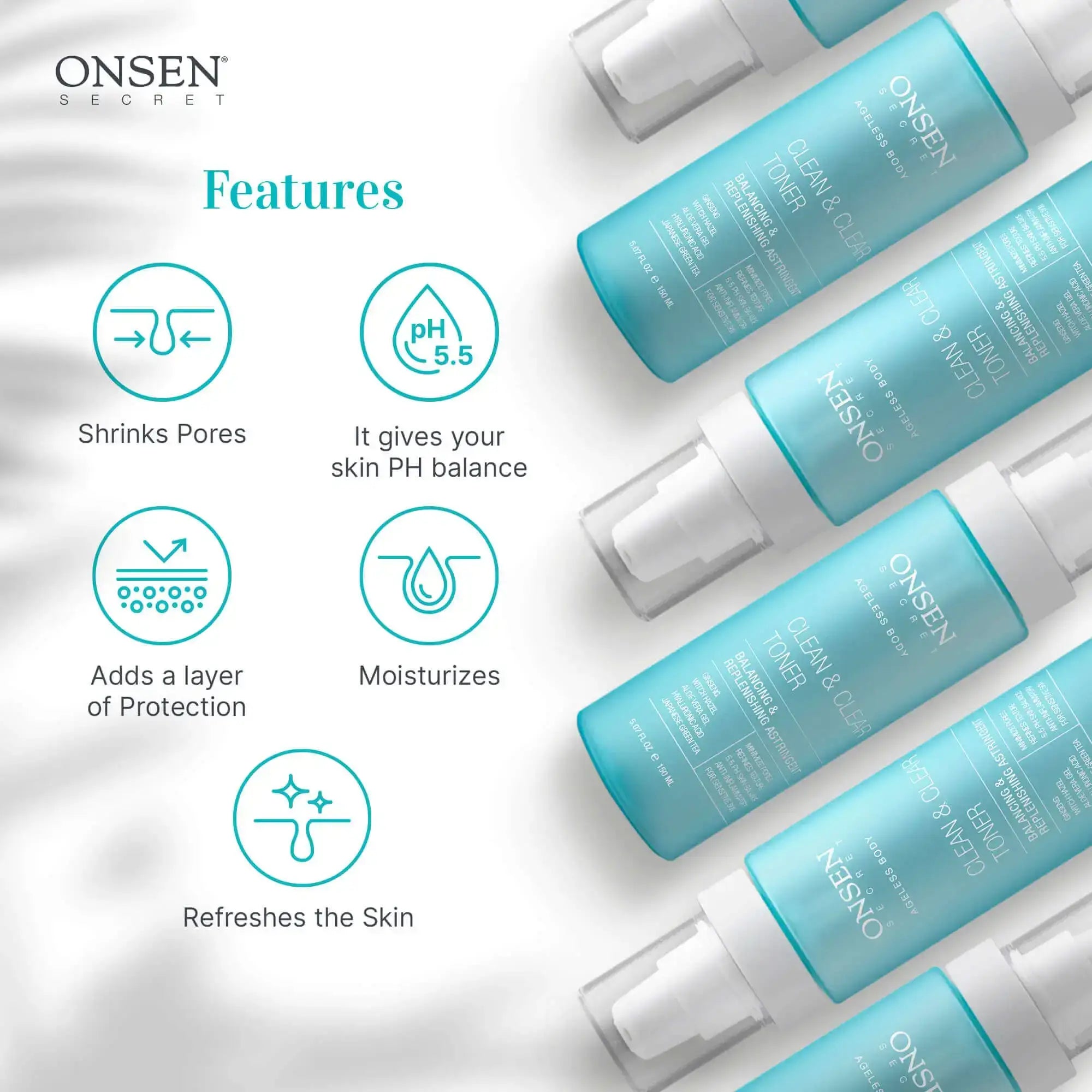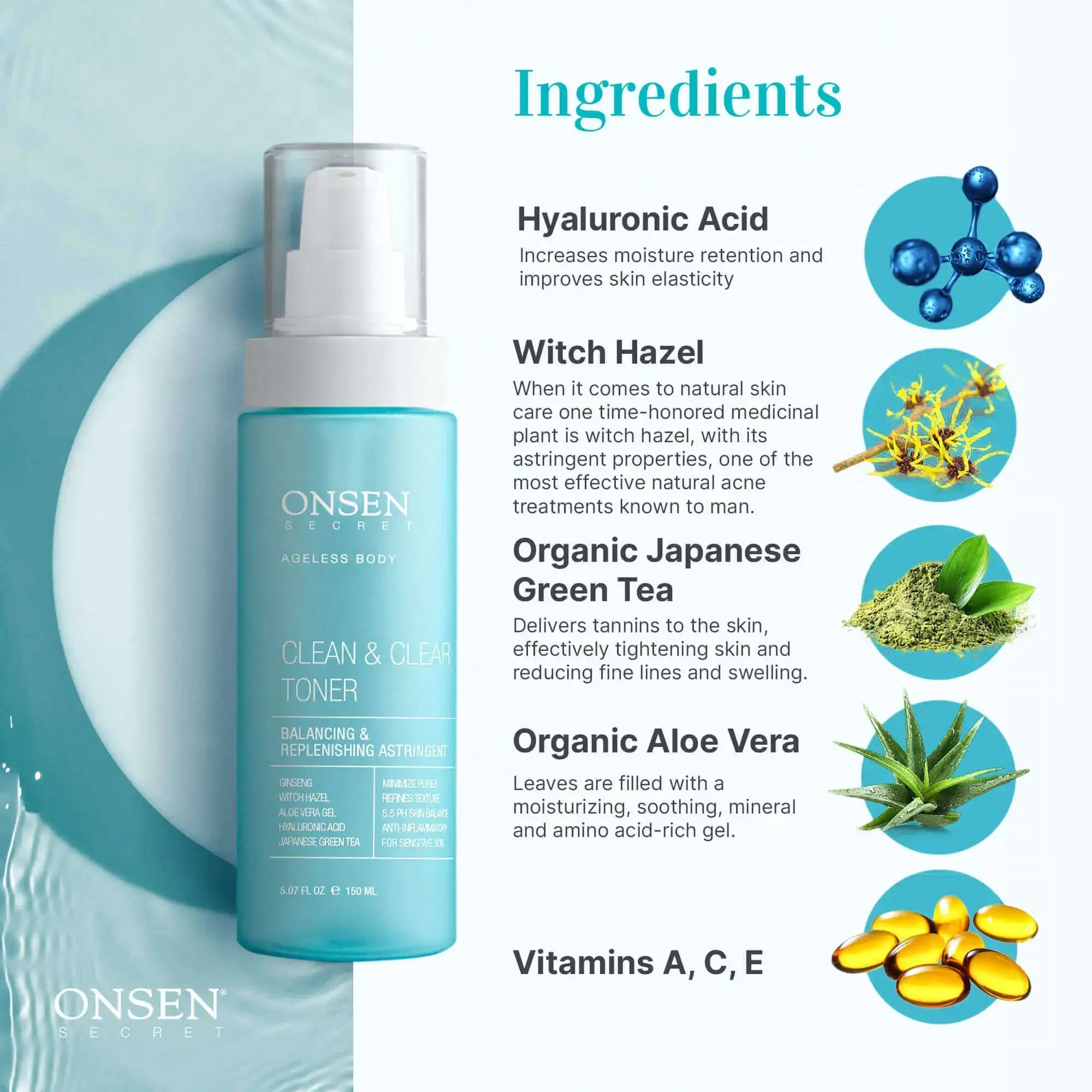 Ingredients - Clean & Clear Toner
Onsen Hot Springs Minerals Distillate ™ (Aqua, Calcium, Tourmaline, Thujopsis Dolabrata Branch Extract), Hamamelis Virginiana (Witch Hazel) Extract, Panax Ginseng Root Extract, GLYCERIN, Camellia Sinensis (Green Tea) Leaf Extract, Tocopheryl Acetate (Vitamin E), Retinyl, Ascorbic Acid (Vitamin C), Hyaluronic Acid, Lecithin, Aloe Barbadensis Leaf Juice, Propylene Glycol, Allantoin, Lavandula Angustifolia (Lavender) Oil.
Clean & Clear Toner Customer Reviews
This product in unexpectedly AMAZING. It is not drying like other toners I have used - it leaves my skin feeling fresh and soft. I bought it a bit on a whim to replace the witch hazel I typically use. I started using this morning and night my skin is glowing; a noticeable difference in appearance and feel. Really love this product.

Lindsay L.

This product is amazing at refreshing your skin throughout the day. It makes you feel like you just stepped out of the shower even after a full day of running around in the heat. The price is fair & it's a good amount for the cost so it should last a while.. I would definitely recommend this product to anyone!

Bab O.
What Makes Our Clean & Clear Toner So Special
Supported by A Patented Micro Water Complex

This brings energy packets that helps the skin reawaken itself and reengage its own biological process and allows ultimate absorbance"

Japanese Healing Minerals

Activate your body's inner healing with a combination of healing minerals from hot springs and carefully selected 100% natural and organic ingredients

Unique Combination of Ingredients

Specifically formulated to provide a range of benefits to the skin, including moisturizing and hydrating the skin, reducing fine lines and wrinkles, and improving the skin's texture and firmness
Awesome!!!
Leave your skin feeling refreshed!
The Perfect Prep for Makeup
This toner is a gamechanger for my makeup routine. It creates the perfect canvas for my foundation by eliminating excess oil and smoothing out my skin's texture. My makeup stays put all day, and my skin looks flawless. I highly recommend using it before applying your makeup.
Say Goodbye to Dullness
Onsen Secret Pore Tightening Facial Toner has transformed my dull skin into a radiant complexion. It brings back the natural vitality and brightness to my face, making me look more awake and refreshed. It's become an essential step in my skincare regimen.
Glowing Skin Goals Achieved!
If you're looking for that coveted glow, look no further than this toner. It not only tightens my pores but also adds a beautiful radiance to my skin. I love how it restores my skin's natural pH balance without causing any dryness. It's a musthave in my skincare arsenal.
Your questions, answered.
Is the Clean & Clear Pore Tightening Facial Toner suitable for all skin types?

The toner is suitable for most skin types, including oily, combination, and normal skin. However, individuals with sensitive skin may want to do a patch test before using the toner on their entire face.
Can the toner be used as a replacement for a cleanser?

No, the toner is not a replacement for a cleanser. It is recommended to use the toner after cleansing your face to remove any remaining dirt or oil.
How often should I use the Clean & Clear Pore Tightening Facial Toner?

For best results, the toner should be used daily as a base prior to the use of creams or serums. It can be used in the morning or evening, or both, depending on your skincare routine.