Rejuvenating Eye & Lip Cream
Rejuvenating Eye & Lips Complex
Regular price

Sale price

$65.00
60-Day Money Back Guarantee
EASY EXCHANGE, RETURN & REFUND

TRY IT FOR 60 DAYS FIRST. If you are not 100% happy, we will issue a full refund less shipping.

SMALL BATCH PRODUCTIONS for fresh and potent product and experience.

SAME DAY SHIPPING on all orders before 2pm PST.
Get younger-looking eyes and lips with our Eye & Lips Complex - a powerful Japanese anti-aging treatment that visibly reduces dark circles, puffiness, and discoloration. Infused with caffeine and a microsphere encapsulation system, it gently smooths out crow's feet and improves skin density for a more lifted appearance.

BENEFITS

Reduces the appearance of lines and wrinkles
Promotes collagen production and skin firmness
Increases skin density and elasticity
Delivers antioxidants to prevent premature aging
Boosts skin renewal for optimal cell health
Improves skin hydration and moisture retention
Helps to ease and prevent redness and dark circles
Repairs sun damage and reduces the appearance of aging
Soothes and moisturizes sensitive, irritated skin
Stimulates the production of epidermal protein for improved texture and smoothness
Treats various skin disorders and inflammatory conditions
Protects the skin from UV sunlight, harsh climate, dehydration, and pollution damages
Hydrates and heals dry, cracked skin from the inside out.
Key Ingredients

Patented Peptides complex amino acids with multi-functional capacity to signal enzymes, promote collagen and relax muscle fibers, and iron out the wrinkle.

Argireline® peptide mimics the N-terminal end competes with the natural protein and prevents the release of neurotransmitters efficiently and therefore muscle contraction is attenuated, preventing the formation of lines and wrinkles.

Resveratrol assists the anti-aging process by delivering antioxidants and acting as a skin protectant, effectively preventing premature aging of skin cells.

NovHyal® helps to eliminate free radicals and boost cellular longevity, making way for optimal skin renewal.

Neodermyl® increases the synthesis of collagen I & III (youth collagen) and elastin, helping to improve skin density and firmness.

Hyaluronic Acid: allows the skin to increase moisture retention, helping to improve skin elasticity as we age.

Vitamin C eases and prevents redness and dark circles while energizing the skin

Sweet Almond Oil As a powerful antioxidant, can repair sun damage. The monounsaturated fats in the oil keep cell membranes healthy, reducing the appearance of aging.

Vitamin E Oil-soluble antioxidant and free radical scavenger. Helps protect the epidermis from early stages of sun damage, reduce moisture loss and improve rough, dry, or damaged skin.

Organic Aloe Vera leaves are filled with a moisturizing, soothing, mineral, and amino acid-rich gel. Beneficial for sensitive, irritated skin, supplies moisture directly to the tissue for moisture regulation.

Vitamin A Acting as a regulator to improve skin's texture, firmness, and smoothness, beneficial for stimulating the production of epidermal protein, skin's thickness, and increasing skin's elasticity.

Pure Lavender Oil antiseptic and anti-fungal properties. Used to treat various skin disorders such as acne, wrinkles, psoriasis, eczema, and other inflammatory conditions.

Shea butter protects your skin from UV sunlight, harsh climate, dehydration, and pollution damages.

Cocoa butter Excellent skin moisturizer, plus it does more than just hydrate the skin. it helps actually heal it from the inside out too. It's a great source of natural antioxidants and saturated fats which are especially beneficial for healing dry, cracked skin.
How to use

After cleansing, apply to the eye and lip area in the morning and evening, as part of your skin improvement routine.
Full Ingredients list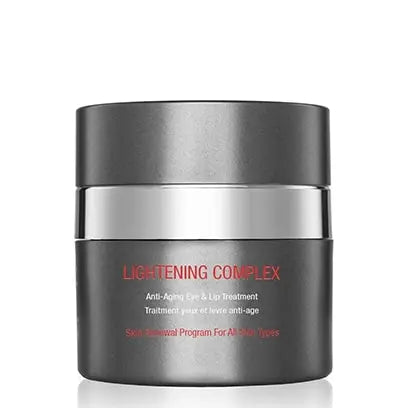 Ingredients - Eye & Lips Complex
Micro Water Complex™ (proprietary complex of Calcium Carbonate (Ore), Tourmaline, Coral Calcium (Fossil), Japanese Binchotan Charcoal (Kishu), Maifan (Bakuhanseki), Thujopsis Dolabrata Branch (Aomori Hiba-Tree) Extract in an aqueous solution), Propanediol, Glycerin, Stearic Acid, Cetyl Alcohol, Beta Glucan (Oat), Palmitoyl Tripeptide-5 (Syn®Coll), Acetyl Hexapeptide-3 (Argireline® peptides}, Dimethicone, Prunus Amygdalus Dulcis (Sweet Almond) Oil, Vitis Vinifera (Red Wine) Resveratrol Extract, Origanum Vulgare (Oregano) Leaf Extract, Sodium Ascorbyl Phosphate (Vitamin C), Disodium Acetyl Glucosamine Phosphate(NovHyal®), Hyaluronic Acid, Butyrospermum Parkii (Shea Butter), Methyl Glucoside Phosphate Proline Lysine Copper Complex (Neodermyl®), Theobroma Cacao (Cocoa) Seed Butter, Aloe Barbadensis (Organic Aloe Vera) Leaf Juice, Lavandula Angustifolia (Lavender) Oil, Tocopheryl Acetate (Vitamin E), Retinyl Palmitate (Vitamin A), Carbomer, Potassium Hydroxide, Ethylhexylglycerin, Phenoxyethanol.
Rejuvenating Eye & Lips Complex Customer Reviews
I have been struggling with dark circles and puffiness around my eyes for years, and I have tried countless products with little success. But since I started using the Eye & Lips Complex , I have noticed a significant improvement in the appearance of my skin. The dark circles have faded, and the puffiness is greatly reduced. Plus, the formula is gentle and non-irritating, which is a huge plus for my sensitive skin.

Anna P.

I have been using the product for two weeks now and I am already seeing a difference in the appearance of my skin. The lines and wrinkles around my eyes and lips have significantly reduced, and my skin feels more hydrated and plump. I love the combination of ingredients like peptides, hyaluronic acid, and vitamins that work together to improve skin texture, firmness, and smoothness.

Barbara M.
What Makes Our Rejuvenating Eye & Lips Complex So Special
Patented Peptides Complex

Contains a unique blend of amino acids with multi-functional capacity to promote collagen, relax muscle fibers, and iron out wrinkles

Resveratrol Antioxidant

Helps prevent premature aging of skin cells by delivering powerful antioxidants and acting as a skin protectant, providing an added layer of defense against environmental stressors

Neodermyl Collagen Booster

A powerful ingredient that increases the synthesis of youth collagen and elastin, improving skin density and firmness for a more lifted appearance
A secret weapon against discoloration
If you struggle with discoloration around your eyes and lips, look no further. This serum visibly reduces discoloration and evens out skin tone.
Gentle yet effective
I love that this serum is gentle on my sensitive skin while still being incredibly effective. It's a winwin!
Youthful radiance in a bottle
This serum has given my eyes and lips a youthful radiance. I can't get enough of the rejuvenating effects it provides.
A caffeine boost for tired eyes
The caffeineinfused formula in this serum instantly wakes up tired eyes. It's perfect for those early mornings or long days at work.
Your questions, answered.
Can the Eye & Lips Complex be used under makeup?

Yes, the product is lightweight and fast-absorbing, making it a great base for makeup.

What makes the Eye & Lips Complex unique compared to other anti-aging treatments?

The Eye & Lips Complex contains a patented peptides complex, Resveratrol, and Neodermyl that work together to promote collagen production, increase skin firmness and density, and protect against environmental stressors, providing superior anti-aging benefits.
Is the Eye & Lips Complex suitable for those with sensitive skin?

Yes, our product is suitable for all skin types, including those with sensitive skin, as it contains organic botanicals like Aloe Vera and Lavender Oil that soothe and calm irritated skin while improving its overall appearance.